Thomas Cook and Air Transat agree fleet deal
Thomas Cook and Air Transat have agreed a winter aircraft exchange to take advantage of the different seasonality of the two companies.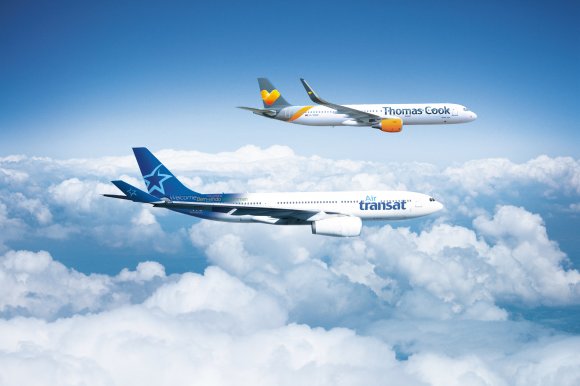 Thomas Cook has signed a winter aircraft exchange with the owner of Canadian airline Air Transat designed to enable both companies to manage and utilise their fleet more efficiently.
Under the arrangement, Thomas Cook will make a number of narrow-body Airbus A321s available to Air Transat and will receive at least one wide-body A330-200 in return.
The agreement takes advantage of the different seasonality of the two companies. Air Transat uses a greater number of smaller aircraft in winter to serve its destinations in the Caribbean, Mexico and Florida, and larger aircraft in summer to serve the transatlantic market.
In contrast, Thomas Cook uses smaller aircraft in summer time to fly to destinations around the Mediterranean and larger wide-body aircraft in the winter to fly to the long-haul destinations like Cuba and the Dominican Republic.
Jean-Marc Eustache, president and chief executive of Transat, said. "Our fleet will eventually consist solely of Airbus A330 and aircraft from the A320 family, such as the A321, which will mean a more harmonised travel experience for our customers as well as lower operating costs."
In the past few years, Air Transat has implemented a flexible-fleet model, through agreements with various carriers, enabling it each winter to increase the number of narrow-body aircraft it operates and to reduce the number of wide-body aircraft.
In winter 2016-17 the airline operated 20 narrow-body aircraft (Boeing 737) and 12 wide-body aircraft (Airbus A310 and A330), while in the summer 2017, it used seven narrow-body aircraft and 25 wide-body aircraft.
Christoph Debus, chief airline officer at Thomas Cook Group, added: "By taking advantage of the complementary seasonal demand in North America and Europe, we will be able to operate additional long-haul flights during winter and better balance the seasonal demand for our short and medium-haul aircraft, resulting in more cost efficiency and choice for our customers."