Each month Routesonline profiles an unserved, underserved or upcoming route as featured on Route Exchange, our platform for route development professionals to connect and design the future of air services.
This month we take a look at the unserved Lisbon (LIS) - Leeds Bradford (LBA).
Lisbon in Portugal is served from the North of England by Manchester and Liverpool John Lennon airports, but there are currently no direct flights from Leeds Bradford.
Although figures from Sabre Market Intelligence show that the two-way Lisbon-Leeds Bradford O&D demand was just 380 from January to June 2017, the comparable market from Manchester was 94,700 and 25,040 from Liverpool.
Existing carriers that already serve both Lisbon and Leeds Bradford are Aer Lingus, British Airways, KLM-Royal Dutch Airlines and Ryanair. Of these, Ryanair could be the most likely operator, with its low fares likely to significantly stimulate demand.

In the second week of August 2017, Leeds Bradford welcomed more than 120,000 passengers in a week for the first time in its history. Of its top ten largest markets by available capacity during the first half of the year, Faro in Portugal ranked seventh while Spanish destinations Alicante and Malaga featured in the top five.
"There is a rising demand for air travel across the Yorkshire and Humber region and our ambition is to meet that by offering the very best choice of destinations for both business and leisure passengers," said chief executive David Laws. "We now have the widest choice of flights available from LBA."
---

Engage 300+ airlines and 160+ airports with your latest data and marketing materials.
---
Figures from OAG show that Leeds Bradford's two-way capacity is set to increase to more than 4.8 million in 2017, up by almost 11 percent on 2016. Although collapsed carrier Monarch was the airport's third largest by capacity during the first six months of 2017, Jet2 has announced plans to up capacity on some existing routes and increase the frequency to Tenerife with the addition of three additional weekly flights from summer 2018.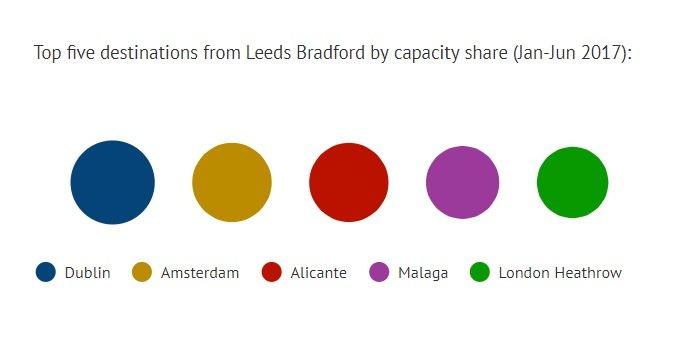 At Lisbon capacity in 2017 is set to increase to 31.6 million, according to statistics from OAG, compared with 27.4 million a year earlier. A recent route success includes the beginning of the direct air connection between Beijing and Lisbon, operated by Beijing Capital Airlines. Beginning in July, the route started with three services per week, increasing to four in November.
Lisbon-United Kingdom (Q4 2017):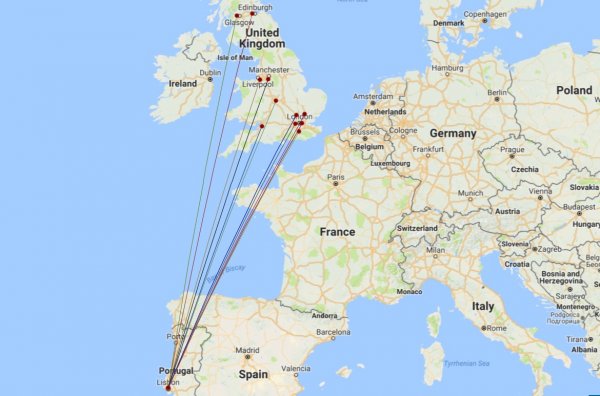 -- VIEW CORK-PRAGUE AND MORE UNSERVED, UNDERSERVED AND UPCOMING AIRLINE ROUTES ON ROUTE EXCHANGE --
---
Reasons to use Route Exchange
Access more than 18,700 senior route development contacts from airlines, airports and tourism authorities.

Unique Profile Page
Create your own bespoke profile page to showcase your organisation's brand and image

Unlimited news posts
Your news and press releases will appear on your profile and the Routesonline news page

Campaign Manager
Target senior network planners with your own bespoke marketing messages

Airline Requirements
Exclusive access to carriers' network strategies

Enhanced Content
Your logo will feature alongside our editorial content

Request for Proposals
Recieve access to airline RFPs for in advance of non-members
Download our media pack to find out more about Route Exchange membership options or call +44 161 234 2730 to speak to a member of the Routesonline team.