Air Berlin flights to end within weeks
Air Berlin, Germany's second-largest carrier, is preparing to end flights at the end of October.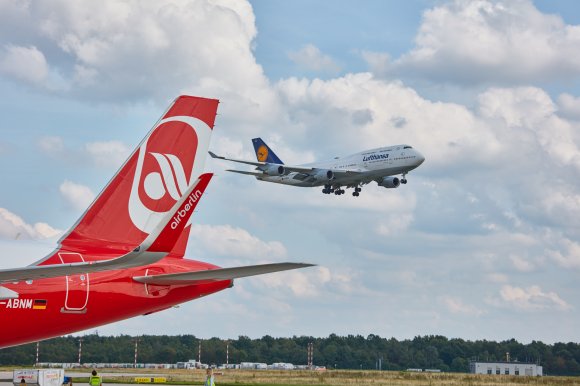 Insolvent airline Air Berlin has revealed it is preparing to end flights at the end of October 2017.
In a statement to the dpa news agency, Germany's second-largest carrier said that flights under the airline code AB "according to the current state of things, will no longer be possible after 28 October at the latest".
However, flights operated by subsidiaries Niki and LG Walter, which are not insolvent, will continue to operate.
Air Berlin filed for bankruptcy protection in August after shareholder, Abu Dhabi-based Etihad, confirmed that it would no longer continue to fund the airline.
Etihad said it "came to the conclusion that there was no further positive way ahead for Air Berlin" amid mounting losses and falling passenger numbers.
Since the filing, the European Commission approved a €150m loan from the German government to allow for the "orderly wind-down" of the insolvent airline "without unduly distorting competition".
Talks with Lufthansa and easyJet about the sale of Air Berlin's assets are currently underway. It is understood that Lufthansa is interested in Air Berlin operations with about 81 planes, including Niki and LG Walter.
Speaking at World Routes 2017 in Barcelona, International Airlines Group chief executive Willie Walsh confirmed the group had participated in the bidding process for parts of Air Berlin but had been unsuccessful.
Etihad bought a stake in Air Berlin in 2011 but said, as a minority shareholder, it could not offer funding that would further increase its financial exposure. The carrier provided €250m of additional funding as recently as April but admitted that Air Berlin's business has "deteriorated at an unprecedented pace".
In addition to the talks for Air Berlin, Lufthansa has announced it will hire 1,000 flight attendants for its Munich hub as its launches Airbus A380 operations from the Bavarian capital in spring 2018.
"Our Munich long-haul fleet will offer a very special flying experience: on the Airbus A380, the world's largest long-haul aircraft and the Airbus A350, the most modern long-haul aircraft in the world," said Wilken Bormann, Lufthansa's Munich hub chief executive.
Lufthansa's fleet currently comprises 14 A380s, and five aircraft will be stationed at the Munich hub on 25 March 2018. The five will transfer from Frankfurt.