ASM Launches 2018 Asia training programme
Introducing the world's most comprehensive air service development training programme specifically tailored for the Asia marketplace.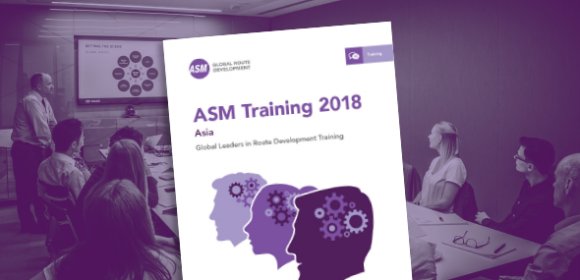 In 2017, ASM held our most comprehensive training schedule to date. We offered a range of air service development seminars across the world, introducing new solution-focussed training courses dedicated to supporting the needs of the training delegates.
Building on this success we are expanding our portfolio further for 2018, introducing our new training course "Marketing to Airlines for Air Service Development". Our primary aim is to help you achieve your individual and company air service development objectives.
We are introducing new training discounts, including an "Early Bird Discount", "Extra Delegate Discount" and "Multiple Course Discount" offering up to 15% reduction against the training fees.
We are also launching an accreditation scheme across all of our training courses. Upon completion of a course, delegates will receive a certificate and accreditation toward the ASM Route Development Diploma, a true mark of achievement that is widely recognised amongst professionals in the industry.
Leong Chou Sheng, Manager Aviation Development, Malaysian Aviation Commission, attended the Route Traffic Forecasting Data Tools and Techniques course. Leong said: "The materials provided were extensive, detailed and relevant to the Commission's activities, and the trainers were considerate of the roles, responsibilities and the restrictions the Commission faces."
ASM was the first air service development consultancy in the world and we are proud to have trained thousands of air service professionals, sharing our wide-ranging experiences across airlines, airports, tourism and marketing spanning over 30 years within the aviation industry.
We offer a wide variety of training courses combining theory, practical application and real life case studies including:
The Fundamentals of Route Development (Level 1)

Route Development for Destinations & Tourism Organisations (Level 1)

Negotiating Airline Incentives and Legal Guidelines (Level 2)

Marketing to Airlines for Route Development (Level 2)

Route Traffic Forecasting Data Tools & Techniques (Level 3)

Understanding Airline Network Planning (Level 3)
We believe we are the world's leader in air service development training, offering practical courses built on the real-life experience that we gain in the field every day. For full details of individual courses visit the ASM website or download the training brochure.