Thai Vietjet regains licence ahead of international push
Thai Vietjet has been given the green light to push on with its international expansion plans after its operating licence was re-certified by Thai authorities.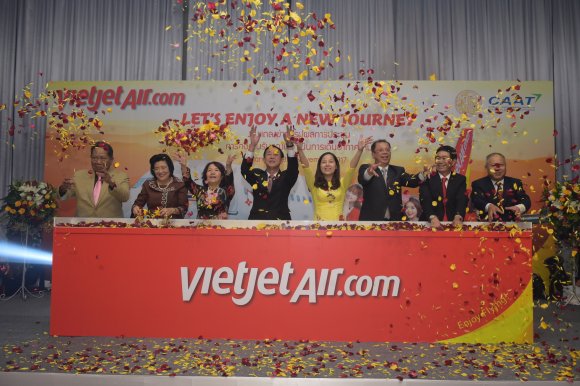 The air operating certificate of Thai Vietjet, an associate of the fast-growing low-cost Vietnamese carrier Vietjet, has been recertified by the Civil Aviation Authority of Thailand (CAAT), allowing it to launch a new international route.
CAAT banned Thai airlines from operating internationally to appease the International Civil Aviation Organisation, which red flagged the country in 2015 over safety concerns.
However, the organisation lifted the red flag in October 2017, indicating that Thailand has "dealt with the problems of under-standard of aviation safety" and is working towards a "more internationally acceptable level".
Thai Vietjet's ability to fly internationally was suspended in September, but it now becomes the 12th carrier to pass CAAT's re-certification process. To mark the occasion, the carrier confirmed the launch of a new route from Bangkok to Dalat in Vietnam.
Commencing on 18 December 2017, the currently unserved route will be operated by an Airbus A320 with four return flights per week, flying every Monday, Wednesday, Friday and Sunday.
Dalat is the capital city of Lam Dong province, located in the Lang Biang highlands – part of the Central Highlands region of Vietnam – 1,500 meters above sea level.
Following the launch, Thai Vietjet and Vietjet Group will operate a total of six direct routes between Thailand and Vietnam, including Bangkok to Hanoi, Hai Phong, Ho Chi Minh City and Dalat; and Phuket/Chiang Mai to Ho Chi Minh City.
Thai Vietjet's capacity share on Vietnam-Thailand routes in 2017 is 3.5 percent, according to figures from OAG, while Vietjet has an 11.1 percent share of the market.
Earlier this week, Vietjet signed a $600m deal to purchase Pratt & Whitney engines for ten narrow-body jets during a ceremony attended US President Donald Trump in Hanoi. The carrier curently has a fleet of 45 aircraft, including A320s and A321s.