How Brussels recovered to become one of Europe's most successful airports
Fresh from winning the inaugural outstanding contribution award at World Routes 2017, Brussels Airport's head of aviation development Léon Verhallen opens up about his greatest achievements, the future of airline marketing and how the airport is recovering from a terrorist attack less than two years ago.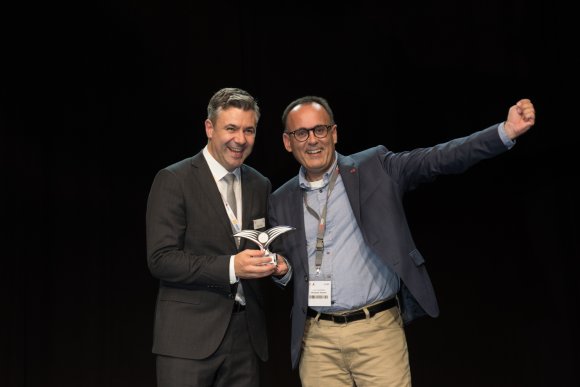 "We have never experienced such a level of support from the airlines as in those difficult days," says Léon Verhallen, Brussels Airport's head of aviation development, reflecting on the weeks and months after the deadly terrorist attack which hit the airport's departure hall on the morning of 22 March 2016.
At the time of the atrocities, Brussels Airport was flying. It had just reported record passenger figures of 23.5 million for 2015 thanks to a string of new services offered by Brussels Airlines, as well as further development of the Star Alliance long haul hub and expansion by a series of low-cost carriers.
The airport remained closed for 12 days following the attacks and it took a further six months for it to get back on track from a passenger numbers perspective. Verhallen says that continuous dialogue with airlines, alongside work with tourism associations and targeted marketing campaigns, helped to put Brussels Airport "back on the map".
"We were impressed with how resilient the market has been and the confidence given by all airlines to restore their original operations as soon as possible," he says.
"Brussels Airlines has continued its expansion in long-haul markets, Ryanair expanded its base operation, TUIfly moved into new leisure markets and several long-haul airlines introduced new routes."
Notable recent successes have included Chinese carrier Hainan Airlines launching a non-stop service to Shanghai Pudong International Airport, a route operated three times a week using a Boeing Dreamliner 787-9. From next April, One World alliance member Cathay Pacific will also begin four weekly direct flights to Hong Kong.
Revitalising the network
In total, six new airlines and 17 new destinations have been secured over the past 12 months. Much of this growth – as well as the route successes before the terrorist attack in 2016 – can be attributed to Verhallen who joined in 2006 to revitalise an airport that had begun to stagnate following the bankruptcy of national carrier Sabena five years earlier.
"Between 2002 and 2006 Brussels Airport experienced a sort of standstill," he says. "The collapse of Sabena and the restart of the much smaller SN Brussels Airiness, coupled with the departure of several long-haul carriers, resulted in the loss of more than seven million passengers.
"Following its privatisation by end of 2005, I was given the opportunity to write an important chapter of its new vision, which remains valid as of today: growth of the home carrier in one of the three alliances, connect the airport with the main intercontinental gateways and grow our fair share of the local market through holiday traffic, low-cost traffic and the European legacy point-to-point carriers."
Since Verhallen's appointment in 2006 and the formation of a new aviation development team, 25 airlines have started flights to Brussels, including Emirates, ANA and Air Canada, adding 60 destinations to its network map.
Such successes have led to the airport winning awards at World Routes in 2008, 2010, 2012 and 2014, including the overall winner award in 2012 and 2014. In September this year, Verhallen also picked up the first-ever Individual Award for Outstanding Contribution to Routes Development at World Routes 2017 in Barcelona.
He lists the first 2012 overall winner award among the proudest moments of his distinguished career, which started as a market researcher at Fokker in 1986. "As a young boy I was fascinated by aviation, but at university I moved into marketing and market research," he explains. "When I had the opportunity for an apprenticeship at Fokker, I grabbed it with both hands."
After working at the company during the development of the Fokker 50 and Fokker 100, Verhallen moved to Amsterdam Airport Schiphol and quickly became responsible for airline marketing in Europe and Africa. In 1997 he was appointed head of airline marketing, with Routes awards following in 1997, 2000, 2002, 2003 and 2004.
Focus on the future
So what advice would he give to other airports? "Looking at today's industry, many airports today are very accomplished at airline marketing," Verhallen notes. "Every year at Routes we see more airports, and interestingly also a more diverse range of airports being nominated for the Routes Awards.
"But I would like to remind airports that correct market data remains key for airlines. Every piece of the puzzle that you can add as an airport to the business case of the airline may help its decision making in the right direction."
He adds that marketing support is essential alongside nurturing existing clients: "Airline marketing is not only about getting exciting new airlines in. In many cases your current clients also have growth opportunities that can be further exploited, and having a new carrier should not take away significant numbers of passengers and yields of your current clients."
Looking ahead, Verhallen explains that Brussels Airport would like to continue its successful Asia growth strategy of the last few years.
"After Beijing, Bangkok, Tokyo, Mumbai, Shanghai and Hong Kong, we still see Delhi, Singapore, Seoul, Taipeh, Manilla and Vietnam as short- and mid-term targets. In North America we still search for a flight to the West Coast, such as San Francisco, while also Boston and Houston offer good opportunities.
"In Latin America it is Sao Paulo and Bogota, and in Africa Johannesburg and Lagos. The latter would complement the already unique network that we offer to sub-Sahara Africa."
Verhallen stresses that Brussels is now firmly focussed on the future. He concludes: "From now on, we want to look forward again, and our recently published 'Brussels Airport Vision 2040' sets the path to the development of Brussels Airport to 40 million passengers in 2040."