McCall departs with a warning to the weak
The strong are getting stronger and the weak are getting weaker, according to outgoing easyJet chief executive Carolyn McCall, who said the collapse of several rival airlines has boosted growth at the low-cost carrier.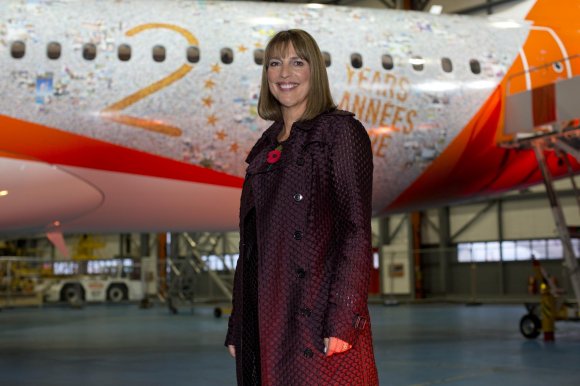 EasyJet, Europe's second-largest budget airline, has enjoyed an "encouraging" start to its new financial year and expects to increase capacity by 6 percent in 2018 after benefitting from the collapse of rival Monarch and the mass cancellation of Ryanair flights.
The low-cost carrier said capacity grew by 8.5 percent to more than 86.7 million seats in the year to 30 September 2017 as it continued to focus its strategy on securing number one and two market positions at "Europe's leading airports".
It is now set for further growth in 2018, with the expected 6 percent capacity growth not including any benefit from the Air Berlin deal. EasyJet agreed in October to pay €40m for part of insolvent Air Berlin's operations at Berlin Tegel Airport.
"What you're seeing now is that the strong airlines are getting stronger and the weak airlines are getting weaker," said easyJet's departing chief executive Carolyn McCall, who will leave the group at the end of the year to join broadcaster ITV.
"Monarch has obviously collapsed and Ryanair has taken a lot of capacity out – they are not a weak airline – but they have taken capacity out and that has been helpful over the winter."
McCall also told BBC Radio 4's Today programme that easyJet's acquisition of certain Air Berlin assets means the carrier is "significantly stronger" in Germany. The deal includes entering into leases for up to 25 A320 aircraft at Berlin Tegel and taking on former staff.
She added: "The sector is very much about structural winners and you can see who they are. They are the ones with strong balance sheets, strong propositions and strong brands. I think easyJet is definitely one of those.
"Obviously there is a lot of uncertainty around Brexit. However, I think from an aviation point of view we've made our point very clearly and very vocally to the [UK] government. What we really require is certainty on the bilateral between the UK and the EU 27 sooner rather than later."
EasyJet carried a record number of passengers in the year to 30 September 2017 at 80.2 million, up 9.7 percent year on year, with record load factor at 92.6 percent. Total revenue grew by 8 percent to £5.05bn but the airline suffered a 17 percent fall in annual pre-tax profits to £408m as a result of a £101m currency hit.
The low-cost carrier added 79 routes to its network during the year and discontinued 20 which either "did not meet expected return criteria, or became secondary" to a more attractive route elsewhere. It also announced the decision to close its base in Hamburg in March 2018.
However, easyJet said it enjoyed "robust" growth in France and increased its market share in the UK, Switzerland and Italy. It will also launch a new base in Bordeaux in spring 2018.
Earlier this month, the airline confirmed that Johan Lundgren, a former TUI Group director, will take over the reins as chief executive when McCall departs. Lundgren has 30 years' experience in the travel sector, the last 12 of which were with Thomson Airways owner TUI.
EasyJet's top ten routes in the year to 30 September 2017 ranked by two-way capacity (source: OAG):
| | | |
| --- | --- | --- |
| Rank | Route | Total two-way capacity |
| 1 | London Gatwick - Amsterdam | 873756 |
| 2 | London Gatwick - Geneva | 818382 |
| 3 | Nice - Paris Orly | 739980 |
| 4 | Barcelona - London Gatwick | 712470 |
| 5 | Belfast International - London Gatwick | 689454 |
| 6 | Toulouse - Paris Orly | 683172 |
| 7 | Milan Malpensa - London Gatwick | 663402 |
| 8 | Amsterdam - London Luton | 648804 |
| 9 | Paris Charles de Gaulle - Milan Malpensa | 629652 |
| 10 | Belfast International - Liverpool | 598944 |