Argentina 'must overcome infrastructure hurdles' to become regional powerhouse
Argentina's more liberalised approach is fuelling capacity growth and attracting new entrants to the market. However, IATA has stressed that the country's government must address infrastructure concerns in order to fulfil its potential and become a regional aviation powerhouse.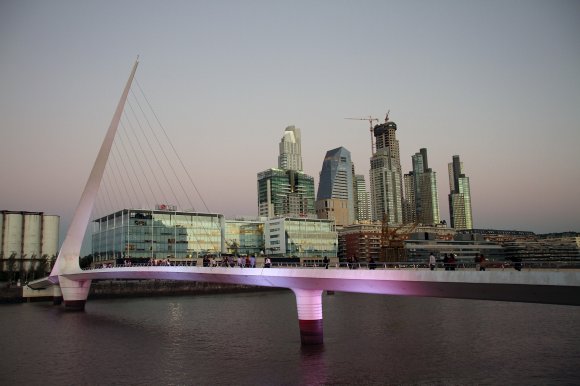 A study published this week has revealed that aviation and aviation-induced tourism contribute $9.6bn to Argentina's economy and support 300,000 jobs, equivalent to 1.7 percent of the country's GDP.
The findings, contained in 'The Importance of Air Transport in Argentina' report conducted by Oxford Economics on behalf of IATA, added that foreign tourists arriving by air, who spend their money in the local economy, are estimated to have supported an additional 130,000 jobs.
As the data is largely based on 2014 figures, it is likely that the value of the aviation sector to Argentina's economy will have increased further. Since president Mauricio Macri took office in late 2015, the government has taken a much more supportive stance towards the industry, recognising the importance of air services towards economic development.
In February 2016 it removed the maximum limit on fares for domestic flights, while in March this year Macri moved ahead with plans to open up the country's aviation network to greater competition, particularly for low-cost carriers, by approving 135 new airline routes.
According to OAG, the country's domestic capacity is on track to increase by 12.2 percent in 2017 to 16.5 million departure seats, compared with 2016, while international capacity is up by 11.1 percent to 8.9 million.
This more liberalised approach is also leading to an influx of new carriers to the market, including Avianca Argentina, Flybondi and Norwegian Air Argentina.
The first of these to get off the ground is Avianca Argentina, part of the Colombian-owned group, which started operating on 21 November 2017 from Rosario International Airport with two daily flights to Buenos Aires Aeroparque. It will extend its services from Aeroparque to Mar del Plata at the end of the month.
Ultra-low-cost start-up Flybondi, meanwhile, completed a $75m funding round in July and plans to grow its fleet to ten leased Boeing 737s by the end of 2018, eight of which will be based at the El Palomar military airbase in Buenos Aires and two at Córdoba.
Norwegian Air Argentina has also stated its ambition to start flying during the second quarter of 2018. It comes a month after the Argentine National Civil Aviation Administration recommended that the airline be granted licences to operate 153 routes.
In addition, Norwegian will operate a four-weekly service from London Gatwick to Buenos Aires from February 2018, marking the airline's first ever South American route.
But while the new environment in Argentina is beginning to take shape, IATA's study warned that it could be reaping far greater benefits from aviation if the right airport and air navigation infrastructure were in place and its taxes and charges were competitive with other countries in the region.
"Argentina has all of the components to become a regional aviation powerhouse," said Peter Cerda, IATA's regional vice president for the Americas. "To start, its geography is vast, making internal air links vital. And the country has tremendous tourism potential with vibrant cities and cultural attractions, beautiful national parks and a growing economy.
"Yet air transport in the country remains underdeveloped. Argentina needs to be strategic about aviation policy and ensure the right air transport infrastructure and cost structure are in place to allow aviation room to grow and deliver the many economic benefits that come from robust air connectivity."
The IATA report found that the quality of Argentina's infrastructure – both on the ground and in the air – is hindering the development of air transport. In spite of recent efforts to improve the country's air traffic management system much of it is "still antiquated and inefficient due to years of underinvestment".
It added that Argentina ranks 130th out of 136 countries for ticket taxes and tourism charges, according to the World Economic Forum, behind other Latin American countries such as Chile, Brazil, Mexico, Panama, Dominican Republic, Venezuela and Ecuador.
This contributes to a high cost structure for the country's aviation industry which weighs on demand and undermines the ability of the country to compete for air passengers, both those travelling to and from Argentina but also those who might connect in Buenos Aires instead of Sao Paulo or Santiago.
However, Argentina's government is making strides to improve infrastructure. In September 2016, it announced plans to invest $1.5bn to modernise 19 airports and help cope with the rising capacity, with the aim of doubling the number of passengers traveling on domestic flights.