Route rundown: BHX-ATQ, ANR-ZRH, ORY-EWR
This week: Air India adds new route from Birmingham Airport, plus why VLM Airlines is introducing an Antwerp to Zurich service.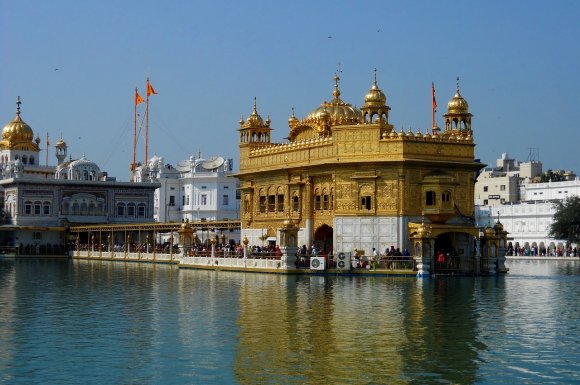 Nigel Mayes is the senior vice president, consulting & product development at ASM. Nigel has more than 15 years' experience in route development and is responsible for product development at ASM.
The sister company to Routes, ASM is the world's leading route development consultancy and has supported the creation of new air services since 1993.
---
Route 1: Birmingham - Amritsar


Data
| | |
| --- | --- |
| Carrier | |
| Aircraft | Boeing 787-8 |
| Frequency | Twice weekly |
| Start date | TBC |
| Distance | 6,420km |
| O&D traffic demand (2016) | 44,122 |
| Growth % YOY | 7.6% |
| Average one-way fare $ (2016) | $140.84 |
Insight
This new service to Amritsar, home to the Golden Temple, will be served twice a week direct from Birmingham Airport, the only UK airport to operate non-stop services on this route. Air India services, which started operating from Birmingham in August 2013, have carried almost 500,000 passengers in the past four years. Currently more than 200,000 British-Indian people travel to India to visit friends and relatives, and for tourism and business interests, this additional destination will serve the large demand within the region for non-stop Amritsar services. A Boeing 787-8 series aircraft will serve the route. It has 256 seats in a split cabin, consisting of 18 business class and 238 economy seats.
The O&D market size of 44,122 year round will not represent the full scale of this market, with many other passengers taking the existing Delhi flight and making a broken journey by air or travelling by car for seven to eight hours from Delhi to the Punjab.
Moreover, it doesn't include the traffic travelling with Turkmenistan Airlines. Over the years many carriers have served the BHX to ATQ market creatively via six freedom routings, such as Kyrgyzstan Airlines, Tajikistan Airlines and Slovakian Airlines. But it has been Uzbekistan Airways and Turkmenistan Airlines, which both serve Amritsar via Tashkent and Ashgabat respectively, that have built a close relationship to the Sikh community.
With the introduction of Qatar Airways (Emirates doesn't serve ATQ) at Birmingham, only Turkmenistan continues to serve Amritsar from Birmingham with virtually all the traffic travelling to Amritsar. Air India will be targeting the Turkmenistan service as much as Qatar (and Emirates into Delhi) as well as taking traffic from their own Delhi service, which they can no doubt back fill with connecting traffic on to the rest of the Air India network. Last year Air India carried 19,000 passengers to ATQ from Birmingham via Delhi, so it must be confident they can backfill this traffic.
---
Route 2: Antwerp – Zurich

Data
| | |
| --- | --- |
| Carrier | |
| Aircraft | Fokker 50 |
| Frequency | Twice daily (during weekdays) |
| Start date | 22 January 2018 |
| Distance | 508 km |
| O&D traffic demand (2016) | 1,512 |
| Growth % YOY | 1640% |
| Average one-way fare $ (2016) | $113.49 |
Insight
VLM Airlines is to introduce an Antwerp to Zurich air service from 22 January 2018. The airline is offering two daily services with a Fokker 50 on Mondays, Tuesdays, Wednesdays, Thursdays and Fridays. The route between Zurich, one of the major financial centres in the world, and Antwerp is a missing link on Europe's aviation map. Antwerp is Europe's second largest seaport, the diamond capital of the world and also the second largest petrochemical centre in the world. VLM Airlines will therefore fill this gap with a convenient morning and evening schedule that allows both business people and leisure travellers to get the most of their stay in either city.
The interesting thing about the VLM service is that their new Chinese owner (SHS Aviation) is rebuilding the old VLM network and LCY was an obvious first market, but Zurich was not served by VLM in the past ten years from LCY, RTM or ANR and has not been served from Antwerp within the same time period. So the market will have always travelled through Brussels and Amsterdam, there is no Rotterdam service to Zurich either. The traffic will be predominantly business traffic.
VLM is also taking a Thomas Cook A320 which is operating on charter services and has been rumoured to be interested in long-haul services.
---
Route 3:
Paris Orly – Newark

Data
| | |
| --- | --- |
| Carrier | |
| Aircraft | Airbus A330 |
| Frequency | Four weekly |
| Start date | 4 September 2018 |
| Distance | 5,874km |
| O&D traffic demand (2016) | 1,253,618 |
| Growth % YOY | 8.4% |
| Average one-way fare $ (2016) | $603.25 |
Insight
Level's announcement to launch a base from Paris is a targeted move to compete head to head with Norwegian, but is also a convenient shift of product offering too, as Level is going to take over the AOC of OpenSkies, the IAG owned all premium transatlantic carrier that was serving Paris Orly to New York JFK and Newark. Level will be operating a 314 seat A330, whilst OPenSkies was using a mix of Boeing 757-200 and 767-300ER.
Level will start services in Paris from July 2018 and has chosen New York - Newark, Guadeloupe, Martinique and Montreal as its first destinations to serve. The first three are the three largest long haul O&D markets from Paris, with 1.2million, 1 million and 900,000 two-way year round passengers respectively, Montreal is the sixth largest with 700,000 passenger per year (according to Sabre 2016).
New York is in direct competition with Norwegian who currently serves four transatlantic markets from Paris. The others are Los Angeles, Orlando, Fort Lauderdale and New York. It is interesting that Level has chosen Newark, so not competing directly with Norwegian, Air France, Delta and XL whom all operate out of JFK. Perhaps it was because Newark not has fewer competitors, with only United and Delta, but also has far less of the capacity share out of Paris with only 21 percent of the capacity despite in general Newark increasingly capturing a more even share of the New York market.
Source: Sabre Market Intelligence
---
---