Swiss carrier's planes grounded; Powdair in 'desperate' funding plea
Flights operated by Swiss regional carrier Darwin Airline have been halted after it became the latest airline to file for insolvency, while Switzerland-focussed start-up Powdair has launched a desperate search for funding before its inaugural flight has even taken place.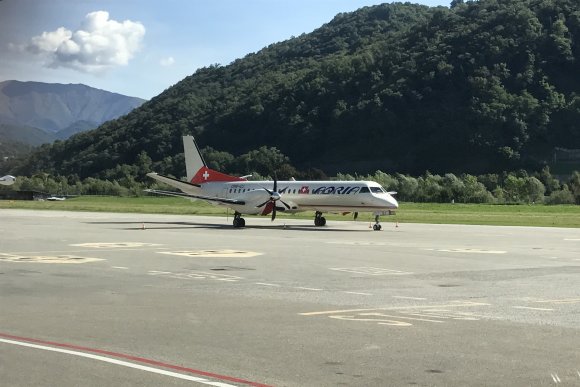 Swiss carrier Darwin Airline has been forced to halt flights after its licence was temporarily suspended by the Federal Office of Civil Aviation (FOCA) amid ongoing financial issues.
The airline filed for insolvency on 27 November 2017 following "several unfavourable market impacts" since its takeover by Slovenia's Adria Airways in July. These include the bankruptcy of Air Berlin, for which Darwin provided ACMI services.
A statement from the Swiss civil aviation agency said it had withdrawn the operating licence "with immediate effect" citing economic and financial reasons.
Darwin Airline added that it was "working on a solution" to restart operations soon.
Adria Airways completed the purchase of the Geneva- and Lugano-based Darwin in July through a new Swiss subsidiary, providing an exit for minority shareholder Etihad.
Etihad bought a 33 percent stake in Darwin in November 2013 and subsequently rebranded the airline Etihad Regional. The decision to sell its shareholding came as part of a divestment strategy that has also resulted in the Abu Dhabi-based airline ending its financial support for Air Berlin and Alitalia.
In September, Christian Schneider, Adria Airways Switzerland's chief commercial officer, told Routesonline that in winter 2017 Darwin planned to focus on its domestic routes and was "looking forward to new opportunities" as an ACMI provider.
The grounding of Darwin's flights comes as Powdair, a budget airline that was due to fly eight routes to Sion from December, admitted that its key financial backer had "walked away from the Powdair journey for personal reasons".
The airline is looking to secure at least £3m this season and £1m by the end of the week "in order to operate a reduced but efficient flight schedule".
Chief financial officer Sean Pettit said: "Powdair is ready to go, but we now desperately need investment. I'd personally like to hear from anyone interested in owning either a small or large part of our airline."