Japan Airlines buys into US start-up's supersonic dream
Japan Airlines has invested $10m in a US start-up which is aiming to bring supersonic travel back to commercial networks – and has options to purchase as many as 20 of the planes.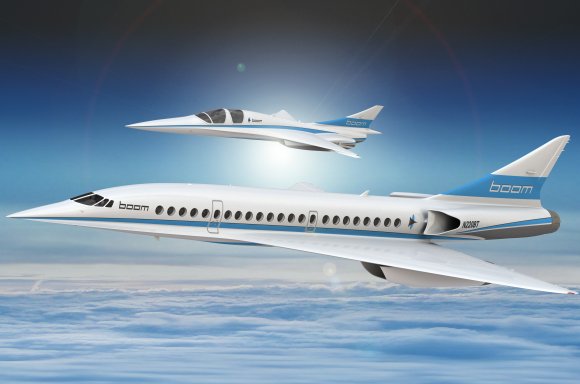 Japan Airlines (JAL) has invested $10m in Boom Supersonic, a Denver-based company developing a new-generation supersonic aircraft which flies at Mach 2.2 and will cut flight times in half.
As part of the deal, the Japanese flag carrier is collaborating with the company to refine the aircraft design. It also has the option to purchase up to 20 Boom aircraft through a pre-order arrangement.
"We've been working with Japan Airlines behind the scenes for over a year now," said Blake Scholl, founder and chief executive of Boom Supersonic.
"JAL's passionate, visionary team offers decades of practical knowledge and wisdom on everything from the passenger experience to technical operations.
"We're thrilled to be working with JAL to develop a reliable, easily-maintained aircraft that will provide revolutionary speed to passengers. Our goal is to develop an airliner that will be a great addition to any international airline's fleet."
The Boom aircraft is projected to be capable of speeds reaching Mach 2.2, or 1,451 mph, faster than Concorde's Mach 2.0 and 2.6 times faster than any other airliners.
Its supersonic airliner is designed for routes up to 16,668 km (10,357 miles), but will need to refuel after 8,334 km (5,179 miles).
Writing in a blog post, Scholl said the backing from JAL was "not just a milestone for Boom, but one for civil aviation".
"JAL is the first airline in history to make a material financial commitment to a faster future," he added.
"Concorde had dozens of pre-orders — but none carried any financial commitment, and ultimately British Airways and Air France got their Concordes for just £1 apiece."
Earlier this year, Boom completed a $33m Series A funding round. Participants in the syndicate included 8VC, Caffeinated Capital, Palm Drive Ventures, RRE Ventures, and Y Combinator's Continuity Fund. Sir Richard Branson's Virgin Group is also a backer.
Since the unveiling of the XB-1 demonstrator in November 2016, the Boom team has been engaged in extensive wind tunnel tests at the Walter H. Beech Wind Tunnel at Wichita State University's National Institute for Aviation Research.
Boom is also developing hardware for the plane's first flight with support from partners at Honeywell, Tencate and Blue Force.
Scholl, a qualified pilot, made his name founding Amazon's Automated Advertising team, which became a $300m business function. Ahead of speaking at Routes Americas 2017 in Las Vegas, he told Routesonline that 500 routes around the world have enough traffic for supersonic service.