2018 route development courses with ASM
ASM offers the world's most comprehensive route development training program, specifically tailored for Europe, Middle East and Africa.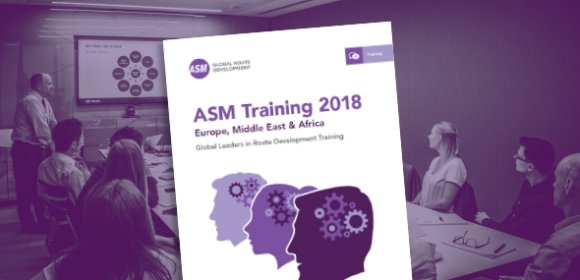 ASM's courses give delegates the knowledge and skills for a successful career in route development. They are a must for anyone who wants to make their mark on the profession. The courses take place around the world and they are adapted to regional markets to suit delegates' needs.
The training portfolio has been expanded even further for 2018, offering the most comprehensive course schedule to date, including a range of relevant solution-focused courses designed to support the needs of today's industry professionals.
The Fundamentals of Route Development
This renowned course was established in 1998 and is highly regarded in the aviation industry. It equips delegates with the practical tools and techniques to create new routes, help grow airline relationships and hone professional skills.
London (March)
Manchester (July)
Johannesburg (August)
London (December)
Negotiating Airline Incentives and Legal Guidelines
Route development decisions are influenced by incentives and negotiation skills are crucial. Incentive packages are substantial investments made by airports and stakeholders so it's important to understand the benefits and risks before committing to an agreement. This course teaches delegates all they need to know about negotiating these deals.
London (June)
London (October)
Route Traffic Forecasting Data Tools & Techniques
Traffic forecasts are a critical part of an airline's route development decision process, and they expect as much insight about a destination's markets as possible. Delegates are shown real examples of data manipulation and learn the most up-to-date techniques to generate a passenger route forecast. They also learn how to use this information to develop engaging presentations and assist in making route development decisions.
London (March)
Johannesburg (August)
London (December)
Marketing to Airlines for Route Development
A new course designed for individuals who have direct responsibility for, or involvement in, the marketing of airports and destinations to airlines, in support of a route development strategy. This course is practical, creative and thought provoking, enabling marketer's to better plan, build and implement compelling airline marketing campaigns. It helps delegates gain insight into how to create distinctive marketing communications for their airport or tourist authority, ensuring a true competitive advantage in attracting airlines.
London (May)
London (October)
Understanding Airline Network Planning
Network planning addresses how airlines serve markets, how they best deploy their fleets and how decisions are taken to open up new routes. Our team of experienced airline industry professionals will take delegates through a comprehensive program providing clear skills development to support this key airline discipline.
Route Development for Destinations and Tourism
Tourism authorities and destinations have an important role to play in route development. Airlines consider the support of destination partners to be one of the most important factors in the launch of a new route, and they prefer to deal collectively with stakeholders who have a unified approach. This course will show delegates how to utilize their collective resources to beat the competition and win new routes.
To support organizations and delegates in planning their 2018 training requirements, ASM has introduced new training discounts, including an "Early Bird Discount", "Extra Delegate Discount" and "Multiple Course Discount" offering up to 15% reduction against the course fees.
For full details of individual courses visit the ASM website, download the 2018 training brochure or contact Alex Cooper via email.