Lufthansa receives green light for scaled-back Air Berlin deal
The European Commission has approved Lufthansa's acquisition of parts of Air Berlin after the German flag carrier agreed to scale back the deal.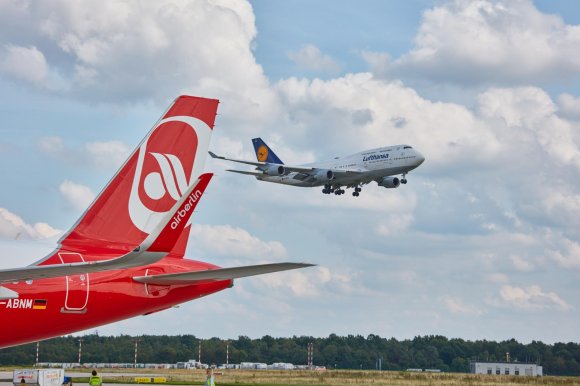 Lufthansa has been given the green light by the European Commission to acquire German regional airline Luftfahrtgesellschaft Walter (LGW), a subsidiary of insolvent carrier Air Berlin, after it agreed to give up some slots at Düsseldorf Airport.
The competition watchdog said the decision was conditional on Lufthansa's "compliance with commitments to avoid competition distortions".
Lufthansa originally agreed to buy most of Air Berlin in October for about €210m. The deal included LGW and Austrian holiday airline Niki.
However, the carrier dropped plans to buy Niki last week after the concerns were raised that the deal would harm competition by creating monopolies on routes in Austria, Germany and Switzerland.
Niki has since entered insolvency proceedings and flights have been grounded.
Following the decision to drop Niki, the European Commission limited its investigation to the impact of the LGW acquisition.
It found that the increase in Lufthansa's slot portfolio at Düsseldorf Airport was "likely to adversely affect passengers in terms of fares and/or choice of services".
To remedy this, Lufthansa has agreed to limit the transfer of slots at Düsseldorf for the summer season to the number of slots used by two aircraft.
Commissioner Margrethe Vestager, in charge of competition policy, said: "Our job is to make sure that mergers do not make European consumers worse off.
"Lufthansa has put forward improved remedies that make sure the effects of its LGW acquisition on competition are limited.
"In particular, at Düsseldorf airport, Lufthansa's slot portfolio would only increase by 1 percent – half of all the slots would be held by Lufthansa's competitors. This addresses our competition concerns, so we approved the proposed acquisition today under EU merger rules."
Thorsten Dirks, Member of the Lufthansa Group executive board and chief executive of Eurowings, added: "This regulatory approval of our acquisition of LGW is an encouraging development.
"And I am especially pleased that we can offer our new employees promising prospects within Europe's fastest-growing airline."
Air Berlin filed for insolvency in August. Earlier this month, the European Commission "unconditionally" approved easyJet's plans to buy Air Berlin's assets at Berlin Tegel Airport.