Orders update: Airbus finishes the year with a flourish
Airbus enjoyed a late flood of orders in 2017, including the finalisation of a record deal for 430 single-aisle aircraft. Southwest Airlines has also announced an increase to its Boeing order book.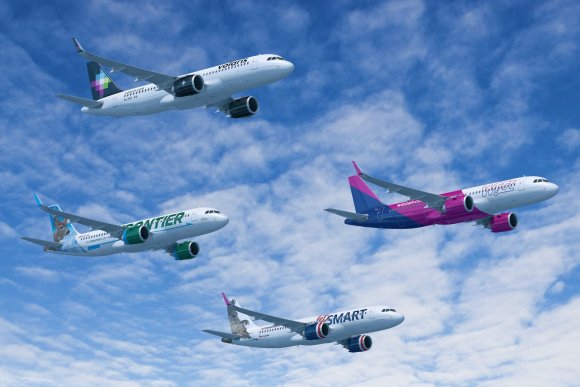 European aircraft giant Airbus closed 2017 with a flurry of deals, ending the year on a positive note amid a period of turmoil.
Private equity fund Indigo Partners finalised an order for 430 additional A320neo Family aircraft for ultra-low-cost airlines Frontier Airlines (United States), JetSMART (Chile), Volaris (Mexico) and Wizz Air (Hungary).
The purchase agreement followed a Memorandum of Understanding among the parties announced at the Dubai Air Show in November. The 430-aircraft order is made up of 274 A320neos and 156 A321neos worth $49.5bn at list prices.
Viva Air has also signed a purchase agreement with Airbus for 50 A320 Family aircraft, comprising 35 A320neo and 15 A320ceo to be operated by the group's airlines VivaColombia and Viva Air Peru.
In addition, aircraft lessor AerCap has upped its A320neo portfolio after signing a firm agreement to buy 50 additional aircraft, while China Aircraft Leasing Group Holdings signed a firm order for 50 A320neo Family aircraft.
Airbus' final order tally for 2017 will be published later this month, but the late flourish means the French manufacturer is expected to have beaten expectations.
It comes amid a period of upheaval at the group, with chief operating officer Fabrice Brégier to leave next month and chief executive Tom Enders to depart in 2019.
Arch-rival Boeing, meanwhile, ended the year with flydubai finalising an order for 175 737 MAX aircraft, the largest single-aisle jet order in Middle East history. The agreement includes options for an additional 50 jets and is valued at $27bn at list prices.
flydubai, an all-Boeing operator, first ordered the 737 MAX in 2013 with a purchase of 75 jets. The carrier has taken delivery of five MAX airplanes from that order.
Royal Air Maroc also ordered four 787-9 Dreamliners as December drew to a close. The orders, previously listed as unidentified on Boeing's Orders & Deliveries website, include two 787s purchased in December 2016 and two purchased last month.
In addition, US carrier Southwest Airlines has confirmed is has exercised 40 Boeing 737 MAX 8 options for 15 firm orders in 2019 and 25 firm orders in 2020, and deferred 23 Boeing 737 MAX 7 firm orders from 2019 through 2021 to 12 firm orders in 2023 and 11 firm orders in 2024.