El Al to end low-cost brand but ups North America focus
Israel's flag carrier El Al is to continue its expansion into North America, but will drop its low-cost brand Up after four years of service to five European destinations.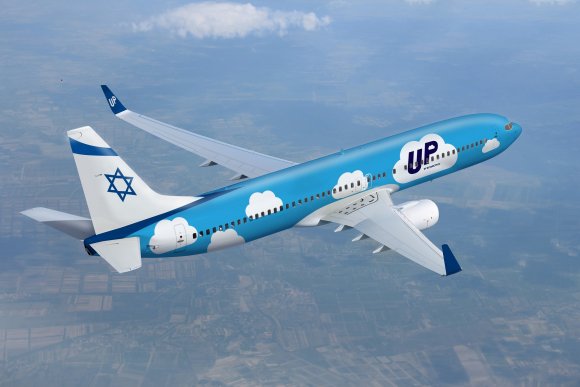 El Al Israel Airlines has confirmed plans to retire its low-cost carrier Up, an airline launched in March 2014 using five Boeing 737-800s transferred from the group's main fleet.
Up operates services to Larnaca, Kiev, Budapest, Prague and Berlin, but the brand will cease to exist from mid-October 2018.
Instead El Al is introducing a new pricing model for Economy Class tickets to all European destinations. Passengers will be offered three types of options at different price levels: Lite, Classic and Flex.
Lite – a basic flight ticket includes one carry-on and food and beverages service; additional paid services including checked-in baggage and seating may be added
Classic – includes one carry-on, seating, food and beverages and one checked-in baggage
Flex – includes two carry-on bags, expanded seating options, food and beverages and checked-in baggage
El Al also plans to reconfigure its 737-800 aircraft flying to Europe. Economy Class seats will be replaced by slim seats while Business Class seats will also be replaced.
David Maimon, president and chief executive of El Al, said: "El Al continues to innovate while adapting to the growing competition on flights to Europe, both among leisure and business travellers.
"Among leisure travellers, price is now a critical factor. At the same time, the business passengers is interested in products that offer maximum flexibility, schedules that are best-suited for business activities, business class service and more."
In addition to the phasing out of Up, Israel's flag carrier has unveiled plans to launch a non-stop Tel Aviv-San Francisco service. The flights are scheduled to operate three times weekly on the new Dreamliner aircraft from the fourth quarter of 2018.
San Francisco will become El Al's sixth destination in North America, alongside New York (JFK and Newark), Los Angeles, Boston, Miami and Toronto.
Maimon added: "San Francisco is the third destination to be launched since we announced the expansion of the North American route network in 2015 with Boston, followed by Miami in November 2017. The acquisition of the 787 Dreamliner fleet enables us to expand our long-haul network.
"San Francisco is a city of strategic importance to El Al, with great emphasis on the business market. With the launch of El Al's nonstop flights, passengers will enjoy a variety of options to reach their destination at competitive prices, allowing greater connectivity throughout North America."