What Open Skies will mean for Ecuador
Ecuador hopes the adoption of an Open Skies policy will attract more international operators to the Latin American country and unlock new routes.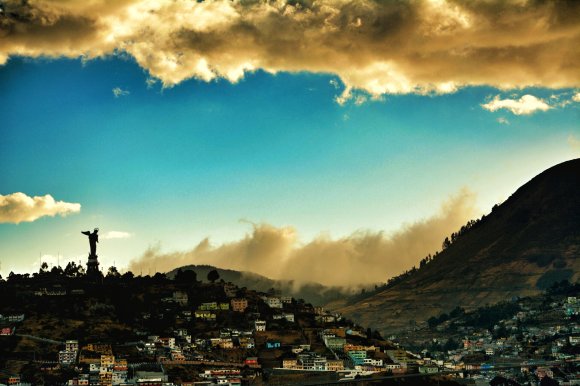 In late December 2017, Ecuador's president Lenín Moreno signed an executive decree for the adoption of an Open Skies policy – a move that has the potential to boost connectivity, unlock new markets, increase tourism and create new jobs.
The government added the policy, which relates to the liberalisation of air transportation except for coastal traffic, would 'invite the world' to come to the Latin American country, as well as directly benefitting citizens with a rise in the number of destinations on offer and lower ticket prices.
"The reduction of prices of air transport will generate systemic competitiveness for exporters, especially important for the export of flowers, frozen fish and other products that perish rapidly," the government said.
"The Open Skies policy can also motivate international operators to take an interest in the international airports of Manta and Latacunga, and even of the cross-border airports of Santa Rosa and Esmeraldas."
According to figures from OAG, Ecuador's international market has dipped in recent years, with total capacity dropping 4.7 percent in 2017 to 2.57 million scheduled departure seats. Domestic capacity also dropped by 13.1 percent last year to 4.16 million.
However, earlier this month Air Europa commenced operations to Quito, the upcoming Routes Americas 2018 host city, with three flights to Madrid per week.
Find out more about Routes Americas 2018
In addition, Spirit Airlines will begin flying from Fort Lauderdale to Guayaquil from March, becoming the US airline's first destination in Ecuador. German leisure carrier Condor will also launch two weekly flights from Frankfurt Airport to Quito, via Las Américas International Airport in the Dominican Republic, from October 2018, operated by a Boeing 767 aircraft.
At a press conference held earlier this month, government ministers said they expected Open Skies adoption would attract even more foreign operators.
Gabriela Sommerfeld, the director of Quito's Chamber of Commerce, told Routesonline that the new policy provides a "clear message to the world" that the country is committed to improving international air connectivity, through the possibility of expanding its use of air rights and improving commercial capacity efficiently in air operations.
"It will definitely improve the international point-to-point air connectivity over time, and as a consequence, internal connectivity will increase in Ecuador to be able to feed the new airlines or frequencies that come to operate in the country's international airports," added Sommerfeld, the former chief executive of Avianca Ecuador.
"This will definitely bring benefits to all industries in the country when greater air connectivity increases trade and tourism. As a result: the greater the connectivity, the better the competitiveness as a country."
According to the latest data, the travel and tourism industry in Ecuador directly supported 137,500 jobs in 2016 and its GDP contribution was more than $2bn.
The World Travel & Tourism Council has estimated that the sector's employment contribution will rise to 196,000 jobs in 2027 and its GDP could be worth $3.36bn, equivalent to 2.5 percent of overall GDP.