Ultra-low-cost codeshare to open US-Mexico routes
Ultra-low-cost airline Volaris has signed a codeshare agreement with sister carrier Frontier Airlines that is expected to open more routes between the US and Mexico.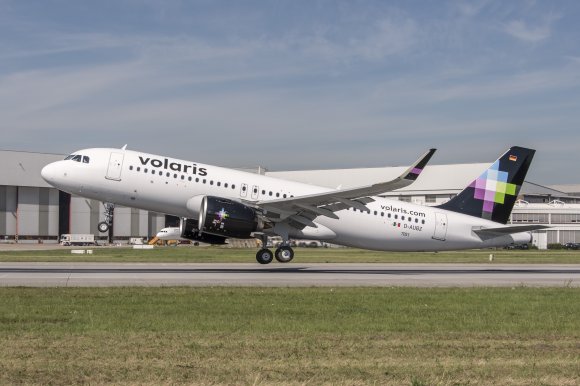 Frontier Airlines has reached an agreement with Mexican airline Volaris to codeshare on services between the US and Mexico.
The agreement, said to be one of the first between two ultra-low-cost carriers, means the airlines will sell tickets on each other as soon as this spring should regulators approve the move.
Volaris estimates that its passengers will be able to reach about 20 more US cities than they can today, while Frontier passengers will gain access to Volaris' network of 40 destinations in Mexico.
"Our goal is to unite families and friends on both sides of the border, and this new agreement with our partners at Frontier will allow us to expand the travel options for our audience while keeping fares low," said Enrique Beltranena, chief executive of Volaris.
"We estimate that our partnership will add around 20 new destinations to our network and 80 new routes between both Mexico and the United States."
Volaris currently serves 24 destinations in the US and 40 in Mexico, of which 21 coincide with Frontier destinations in both countries. The codeshare agreement greatly enhances the potential for connecting itineraries.
"This agreement will allow us to expand upon our mission to deliver low fares and enable more people to fly," said Barry Biffle, president and chief executive of Frontier.
"Many customers traveling between the US and Mexico are forced to pay high fares to fly, and this agreement will provide lower fares to a vast majority of the US and Mexico population."
Volaris currently offers more than 323 daily flights on routes that connect 40 cities in Mexico and 28 cities in the US and Central America. Frontier flies to 80 destinations in the US, Canada, Dominican Republic and Mexico on more than 320 daily flights.
Both carriers form part of private equity firm Indigo Partners' portfolio of airlines and recently boosted their order books as part of a deal for 430 additional Airbus A320neo Family aircraft. Volaris will receive 46 A320neos and 34 A321neos, while Frontier will receive 100 A320neos and 34 A321neos.