Interview: a golden opportunity for Jet Airways
Jet Airways' new chief executive Vinay Dube plans to take advantage of India's strong economy and booming demand for flights.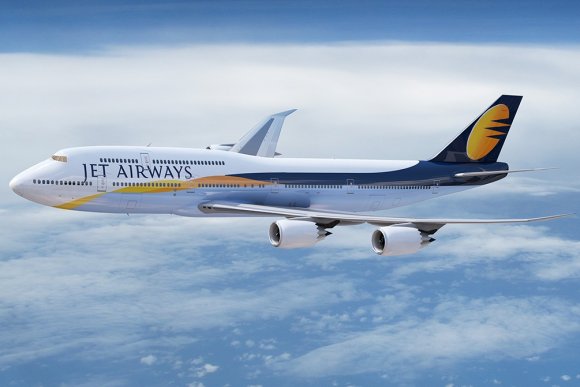 After three decades working outside his home country, Jet Airways' new chief executive Vinay Dube has returned to India at a time when both the country's economic growth and aviation sector are set to accelerate in the next few years.
He was appointed to the role in August following more than 30 years spent working in the US, Europe and Far East for American Airlines, technology firm Sabre and most recently Delta Air Lines in the Asia-Pacific region.
He could not have returned at a better time, with passenger growth in India increasing by more than 20 percent per annum over the past two years – buoyed by a domestic market that is outpacing all other regions of the world. This growth is expected to continue with India's GDP forecast to pick up momentum during the rest of the decade – the current annual economic growth rate of 6.3 percent is set to rise to 7.5 percent per year by 2019-20.
"Indian aviation has the kind of numbers that make any other country jealous," enthuses Dube during a visit to London to celebrate the launch of a third daily flight from its key hub Mumbai to Heathrow, the busiest airport in Europe. "Air travel demand is closely correlated to the growth in GDP," he adds.
"Trade is correlated to the increase in aviation demand - wherever you see growing economies, that's good news for airlines."
Even the Indian government's introduction of a new Goods and Service Tax (GST) on international travel in July does not seem to have slowed the pace of growth for carriers such as Jet Airways – at least, not yet.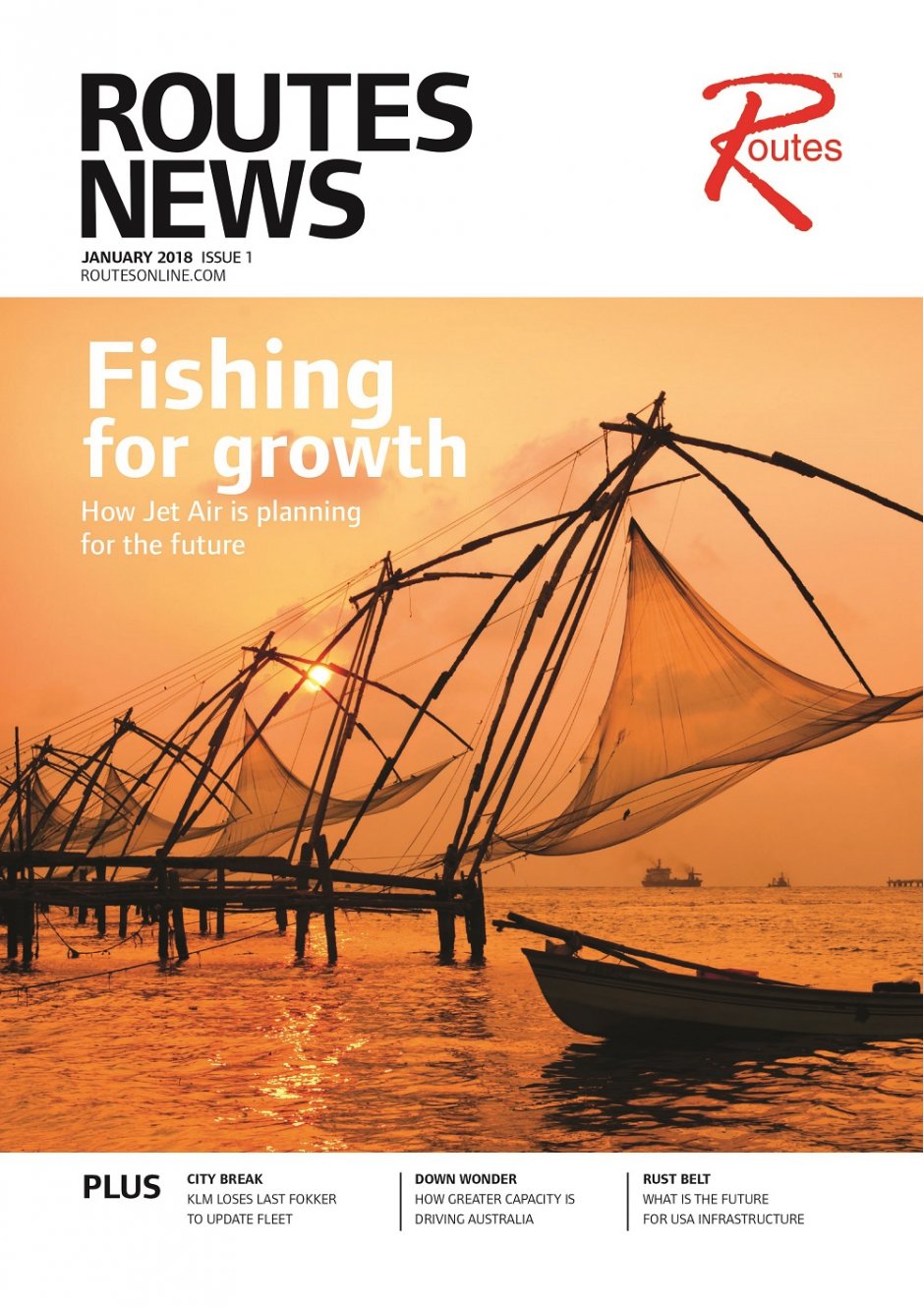 ---
This article first appeared in Routes News edition 1 2018
---
"From an aviation perspective, it has not had an adverse impact," says Dube. "There's a much more robust real economy which will drive air travel growth. But we need time to see how this plays out."
To cope with this anticipated increase in demand, Jet Airways plans to introduce 150 new narrow-body aircraft over the next five years. This includes an existing order with Boeing for 75 737 MAX aircraft, with plans to finalise a second order for another 75 short-haul aircraft early this year. Currently, Jet operates a total fleet of 115 aircraft.
"We are planning to double the order for 75 aircraft - we will hopefully finalise another 75 with one of the big jet manufacturers and hope to do that before the end of the fiscal year on March 31," confirms Dube. "There will be a transformation over the next five years between 2018 and 2023 as we take delivery of all 150 aircraft – the first 737 MAXs will be delivered in 2018. The 150 will include replacements for 75 existing aircraft and then growth for the remainder."
So with around 75 new narrow-body aircraft joining Jet's fleet over the next five years, where will these planes be flying? Dube is coy about giving too many details on potential destinations, but adds: "The routes will be everything we fly today and then more."
Steady growth
Dube is aiming to grow Jet Airways' capacity by around 10 percent per year over this period, which he admits may not be as fast as some of the airline's main competitors in the market. "I'm happy to grow at 10 percent per year, not 20-30 percent," he says.
"I want us to be a strong and healthy airline concentrating on the service we provide and the strength of the balance sheet – can we do that with 10 percent growth? I think we can. If competitors want to grow at double that, that's their prerogative.
"That will include domestic growth as well – the Indian market is growing and the domestic market is thriving. We will continue to participate in it but there will be an element of capacity discipline as well.
"We would like to serve places such as Hong Kong, Bangkok and Singapore from other cities in India. We would also look at adding more routes to Nepal and Bangladesh with new ways to serve them from the main places we fly from: Mumbai, Delhi, Chennai and Bangalore."
Dube clearly seems cautious about expanding too quickly despite the buoyant nature of the Indian market and this is similarly true with his approach to long-haul expansion. He says that there is "no need" at the moment to start any tendering process to buy new long-haul aircraft, although it will be "looked at in the future".
As well as the extra daily Mumbai- London flight, which launched on 29 October 2017, Jet Airways has also begun flying on two other European routes: from Chennai to Paris Charles de Gaulle Airport and Bangalore to Amsterdam Airport Schiphol during the current winter season.
"That's quite a lot of capacity, so the first priority is to absorb that and make sure it performs well over the next 12 months," says Dube. "Over time, you will continue to find us looking at the UK and Europe with growth ambitions.
"I'm happy to absorb the capacity we have just launched before looking at something new. Any good airline always has eight to ten routes that they keep studying – it's about having a planning pipeline. But I would be lying if I said some of these routes are on the cards, having just launched three of them."
Asked by Routes News if he would consider introducing flights to other UK airports outside the London area - currently Jet Airways operates from Heathrow to both Mumbai and Delhi - Dube admits it could be a possibility if there is enough demand.
"We have 1,000 seats per day to the UK – that's not a lot for the size of market," he says. "There are plenty of other options. People live in other cities in the UK outside London – there are plenty of Indians who reside in those places, as well as wonderful universities in other parts of the UK.
"Manchester and Birmingham are two obvious choices and we will continue to look at those two cities. When demand is robust enough we will launch flights."
Brexit plan
With a significant amount of its European capacity going into London, is Dube concerned about the impact of the Brexit process that will see the UK leaving the European Union in 2019? "There is nothing that keeps me awake at night," he says. "The UK is very important for us and we want to see a strong and robust UK. Whatever creates a robust UK is good for us; anything that affects that is not good for us.
"When you look at all the Brexit scenarios that could play out, there's not anything that is going to impact UK-India relationships to the point where it will cause a lot of pain for Jet Airways.
"Our third flight from Mumbai [to London] shows how strong the ties are between the two countries – UK and India. For me, these ties are personal as I spent two years of my formative years being educated in the UK.
"London is the first city that comes to mind when Indians think about travel. At Jet Airways we try to follow our customers and try to make it convenient for them to come to London. Most Indians aspire to visit London and I would say that London will continue to be at the centre of our European operations. Indians feel at home here [in London] and there's an incredibly large diaspora here."
As for the rest of Europe, Jet Airways is continuing to focus on deepening its partnerships with airlines such as Air France-KLM, where it is using these both carriers' hubs in Paris and Amsterdam to connect through to other European destinations and also on to transatlantic services. Jet has also been developing closer relationships with Delta Air Lines and Virgin Atlantic.
"We will look to grow through our partnerships with Air France-KLM, Delta and Virgin Atlantic," adds Dube. "That's good for consumers with many more travel alternatives and allows passengers to continue into Europe and North America."
Jet Airways is also forging another transatlantic partnership with Aeromexico by agreeing to codeshare on each other's flights to Heathow from India and Mexico respectively. Growing these partnerships is part of Jet Airways' strategy in other parts of the world as well, with the airline increasing its codeshare arrangements with China Eastern Airlines.
"We will continue to further that relationship with China Eastern," says Dube. "We don't currently fly to mainland China; we fly to Hong Kong and then transit into the mainland. But some day we may fly directly into China."
So what do all these increasing partnerships with other airlines mean for Jet Airways' relationship with Etihad Airways, which has a 24 percent minority shareholding in Jet? Does it create any difficulties or potential conflicts of interest for the Indian airline?
"I see no issues with that," insists Dube. "On a holistic level, both partnerships are extremely beneficial for Jet and that will continue. We make respective partners stronger – you don't have to pick and choose. They all create a stronger Jet Airways and that can continue.
"Etihad is an incredibly useful partnership for Jet – we will continue to find ways in which we can further grow as a partner and an equity owner."
With most indicators seeming to point in the right direction for Jet Airways' expansion, it's not surprising that Dube is optimistic about the next few years.
"Whenever you ask somebody in India about markets to here or there, they always say there's growth to every market," he adds. "That's just India today – the population is growing and the economy is growing. People want to fly everywhere. People everywhere are looking to India, it's the same as with China."