Routes revisited: the growth of Cartagena after hosting Routes Americas
It is five years since Routes Americas was held in the Colombian city of Cartagena – since then the market has experienced a significant growth in capacity.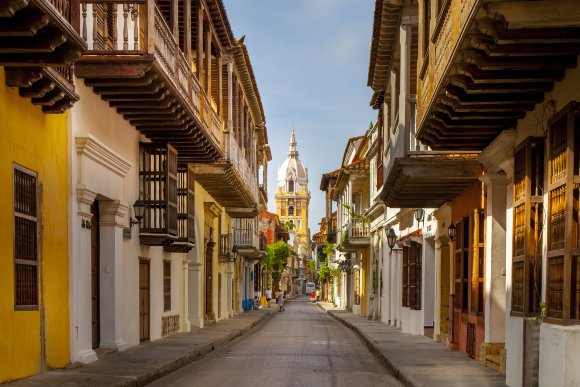 Routes Americas 2013 took place against the backdrop of a new era of economic and tourism development, liberalisation and aviation growth in Colombia.

Earlier in the year, the open skies policy between the country and the US came into being, ushering in a new wave of trade and tourism links, as well as offering passengers more choice and lower fares.

While Colombia's market had grown strongly in the run up to its introduction, the increase since has been exponential.

According to OAG Schedules, international two-way capacity has risen from 12.8 million available seats in 2013 to 16.7 million in 2017. Its domestic market has also jumped from 23 million to 30.2 million over the same period.

Rafael Núñez International Airport in Cartagena, the fourth largest airport in Colombia, has helped to drive that growth. Working with Tourism Board of Cartagena de Indias, ProColombia, hotel association COTELCO and aviation consultancy ASM, it has attracted a string of new airlines and routes.

Key international additions have included Jetblue adding A320 services to New York JFK in 2012 and Fort Lauderdale two years later, while Delta added Atlanta in 2015, operated by Boeing 737.

Last year was a stellar 12 months for CTG, with two new services to Panama by Wingo and Air Panamá, as well as LATAM to Lima, KLM to Amsterdam, American Airlines to Miami and Air Canada Rouge to Toronto. From March 2018 KLM also plans to add a fourth weekly Amsterdam – Bogota – Cartagena – Amsterdam service.

Overall, international capacity at Rafael Núñez International Airport has increased from 421,388 available seats in 2013 to 758,290 in 2017, helping to push total two-way capacity 49 percent higher to 5.23 million.

Omar Hashmi, senior consultant at ASM, has worked to help Cartagena attract new routes and services since Routes Americas 2013.

"Providing market analytics, forecasts and strengthening airline relations has resulted in new services to the Americas and Europe," he says. "The buzz from each new tailfin seen on the Cartagena airport ramp has been tremendous."

"I look forward to bringing more new airlines to the city and see a positive future with improved awareness and tourism/business growth resulting from the new air links and a vibrant Colombian economy."

"I would love to see Cartagena host a Routes event again, providing a further catalyst to route development for the city and as a role model to others."

María Claudia Gedeón Cueter, manager of corporate affairs of airport operator SACSA, adds that hosting Routes in 2013 was a fantastic platform for positioning Cartagena as an international tourist destination and a leader in connectivity in the Caribbean.

"Since then the ongoing relationship with ASM/UBM has resulted in seven new international services and significantly contributed to Cartagena being the fastest growing airport in terms of passengers in Colombia."