Viva Air targets Ecuador and New York Stock Exchange listing
Viva Air will look to go public within the next two years, the airline's chief executive Declan Ryan has told delegates at Routes Americas, as well as potentially launching services in Ecuador.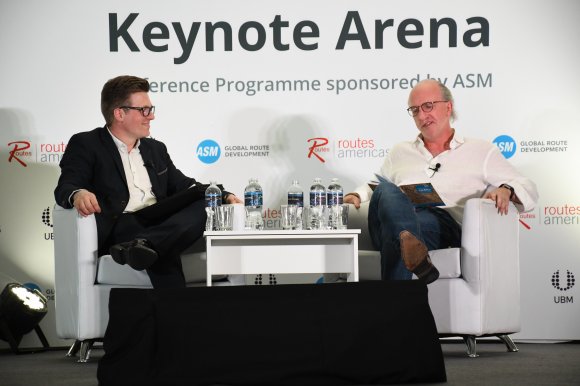 Launching operations in Ecuador is on the agenda for Viva Air, according to chief executive Declan Ryan, who revealed that group is in talks with several airports.
Viva Air currently operates two low-cost carriers – in Colombia and Peru – but is looking "very seriously" at the Ecuadorian market.
"We're in deep discussions with some airports in Ecuador and we're looking very seriously at the market," said Ryan, who was addressing a packed Keynote Arena at Routes Americas in Quito.
"I'm a bit of a virgin to Ecuador, but I was blown away by the airport in Latacunga. We think that it could be the equivalent to Stansted or Luton to the city of Quito."
Interviewed by Nigel Mayes from ASM, Ryan also told delegates that Viva Air would look to go public within the next two years.
The potential expansion to Ecuador comes less than two months after Viva Air signed a purchase agreement with Airbus for 50 A320 Family aircraft, comprising 35 A320neo and 15 A320ceo aircraft.
The first seven of the ceos will be delivered this year followed by a further eight next year. The order will allow for its current fleet of 14 aircraft to be phased out.
"I think our fleet will go up to about 25 in Colombia, ten to 15 in Peru and other markets, including Ecuador, will be the remainder," said Ryan, son of Ryanair founder Tony Ryan. "We're also looking at Central America."
However, Ryan said Viva Air is not considering Chile or Brazil, but remains open to a return to Argentina.
"We're not looking at Chile as that would be a nightmare because of the airlines already down there," Ryan explained. "We want to avoid that fight."
But he added: "Argentina is very interesting – it's a great country with great people. We've had a good look at it – and I've no doubt we'll be flying in Argentina – but the market doesn't smell right at the moment. We'll go back into Argentina at a later date but it's not a priority."
Ryan said that the group has made a decision on its strengths – and its strengths are in the Andes region. He added that Viva Air's priorities in 2018 are to introduce the new aircraft and also to grow the group.
"At Viva we carry a lot of backpackers – we actually call them 'macpackers' as they all have laptops and iPhones – and if you take the golden triangle of Colombia, Ecuador and Peru there are a lot of Brits, Germans and Yanks who will fly with us," Ryan said.
"Ten percent of our traffic in Colombia at the moment is foreigners – and that is too low. We want to get that up to about 20 percent."
As part of Viva Air's ongoing growth, Ryan said that the Irelandia Aviation-owned company is exploring an initial public offering.
"We're going to list Viva Air, certainly on the New York Stock Exchange within the next two years," he revealed. "We'll probably have a dual listing in Colombia as well."