Would privatisation of airports present opportunities or threats?
Our panel debate at Routes Americas explored the issue of privatisation of airports, exploring which model airlines prefer.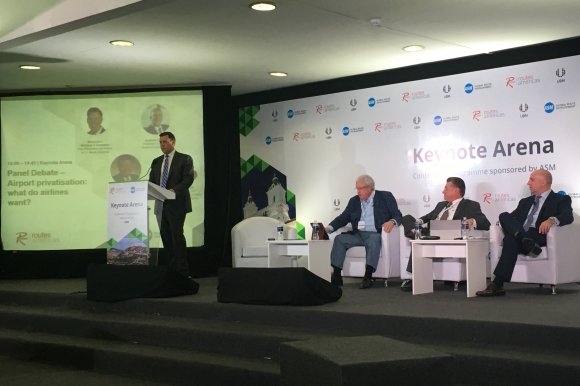 Privatisation of airports has failed to take off in the US and Canada but the tide towards putting them in the hands of for-profit companies could be turning, with both governments seemingly now more open to this model.
Privatised airports in other countries around the world - including many LATAM countries - have often resulted in increased investment and efficiencies.
However, federal rules particularly in the US present major stumbling blocks, while the Federal Aviation Administration currently states that sale proceeds must be used for airport reinvestment, rather than the general budget.
Our panel debate at Routes Americas in Quito asked two airports - one private and one public - about their thoughts on the matter, as well as getting the views of Jeff Scheferman from CCR Airports.
Here are some of the key quotes from the debate:
Gaëtan Gagné, president and chief executive, Québec City Jean Lesage International Airport:
"Airports and airlines in Canada don't want privatisation, but the government wants it and the government always wins."
"Québec City Jean Lesage is operated by Aéroport de Québec inc, a non-profit and non-share corporation. That means all the profits from the airport are reinvested. That model means it benefits passengers.
"In Canada the non-privatised model has been very successful. We have well-run and efficient airports."
Jeff Scheferman, executive vice president of North America, CCR Airports
"I spoke to numerous airline executives before partaking in this panel and had a series of conversations about what they like and don't like… everyone said they want safe, secure and efficient infrastructure. That was the first comment from everyone."
"Efficient infrastructure is needed to meet the growth demands of the airline - it needs to be there on time in order to allow the carriers to grow at the rate they require. They won't go to markets that are congested with no room for growth."
"They also said that often airport operators come out with great plans to renew the infrastructure - but airlines often don't know how much it will cost them. The next thing they know is that the airport announced what it is going to build, without any participation in the design from the airline. They want to be involved much more in the planning process."
"Cargo is becoming really important - even for passenger airlines. They want to operate freighters but there's no facility to go to."
Andrew O'Brian, president and chief executive, Quiport Corporation:
"When you talk about privatisation, there are a number of different angles you can approach. But from our experience in Ecuador, the new Quito International Airport has been a game-changer. I came here a year before the airport opened and the old one was always in the top ten most dangerous airports in the world list. It was not a list you wanted to be on.
"If you talk to our airlines back then, they were pulling their hair out at how unsafe and inefficient it was. It didn't work. I don't think you can take a broad brush and paint it across the world, saying privatisation always works, but it has been tremendous for Quito.
"Ecuador needed privatisation. Airlines were screaming because they couldn't grow. And this was affecting the city and therefore the country. It was a big deal. They came to Quiport and asked us to finance and build the new airport.
"We stepped forward with our shareholders and brought equity and international financing to the table. We put the project together and put all the infrastructure in place. We gave them a safe, friendly and efficient airport.
"It took years to build - and there were a few bumps along the way - but we got certified in February 2013. At that point it became a brand new international airport. Since then it has been remarkable. We had some challenges in the first few years, but we consulted with our airline partners about what works and what didn't.
"As an airport operator you always have to speak to your customers about what they need. If you don't you're going to have a lot of problems. One advantage we have at Quiport is that we have three long-term investors who have invested a lot of capital and energy. We're all in it for the long-term and that enables us to reach out to our airline customers and make sure all the decisions we make benefits everyone."