Interview: how data helped Myrtle Beach triumph
Serving the popular South Carolina tourism hotspot, Myrtle Beach International Airport's effective use of alternative data sources has helped it to attract new airlines, increase capacity on existing services, add destinations to its route map and be crowned overall winner at Routes Americas 2018.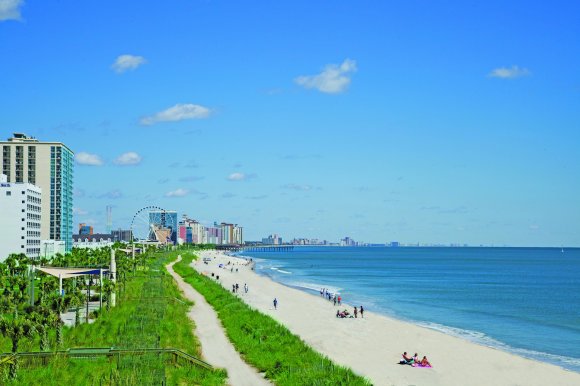 It has been an eventful few months for Myrtle Beach International Airport (MYR). After reporting record passenger figures of more than 2.27 million for 2017 - surpassing the previous year's record of 1.9 million - the airport went on to win two awards at Routes Americas 2018 in Quito.
The South Carolina airport triumphed in the Under 4 million Passengers category and was then crowned overall winner, with judges recognising its outstanding marketing services that have supported the launch of new air routes or the development of existing services.
In 2017, airlines serving MYR offered non-stop service from 38 markets - four of these were new and 24 existing markets experienced year-on-year seat capacity increases. Its overall seat capacity levels were up 20 percent compared with 2016 and, since 2012, airlines serving MYR have added about 500,000 new directional seats.
This month Allegiant Airlines also announced three new non-stop routes to Nashville, Tennessee; Flint, Michigan; and Louisville, Kentucky. The carrier hopes the services will bring about 20,000 passengers to the area each year. In addition, Frontier Airlines has announced services to Providence, Denver, Trenton and Long Island.
While the Grand Strand tourism offer is a clear strength - with its beaches and golf courses attracting more than 18 million tourists each year - MYR's director of air service and business development Kirk Lovell says the growth is also a result of the airport redefining its air service marketing strategy in 2012.
The strategy's focus is better seasonal management, with the objective of improving shoulder season capacity levels. Key to the plan is the collection, analysis and sharing of proprietary market-centric data that assist airlines in understanding demand trends at a micro level.
"The one-two punch of being a strong tourism destination and a local growing population is pushing demand for more air service capacity at the Myrtle Beach International Airport," says Lovell. "But using alternative data sources we are able to identify top market opportunities, even when the US Department of Transportation's O&D data shows no or limited traffic."
Lovell explains that MYR has partnered with the local business community to collect data such as visitation, golf rounds played, second property ownership and migration trends. Partners include Golf Tourism Solutions, Myrtle Beach Area Chamber of Commerce and hotels in the region.
"A key to understanding market demand is identifying when visitors come and where visitors are coming from," he adds. "This wide variety of partners, with a common goal of growing our destination, began sharing critical data that is now the foundation of our business case to airlines."
Lovell says that its hotel partners share guest check-in, party size and origination zip code data, while its golf data identifies by month where golfers reside.
"Using these two datasets we better understand seasonality trends, and can now prove that demand for our destination is strong from early spring through late fall opposed to summer only," he adds.
"Also, we dig deep with the local real estate market to understand second property ownership in our destination. So far we have unearthed more than 100,000 second property owners living beyond a seven-hour radius of our airport.
"While there are other valuable data sources, which we analyse and include in our business case to the airlines, the three listed are perhaps the most useful in validating the opportunity that exists for air service to Myrtle Beach."
Lovell says that so far in 2018 it has ten commercial airlines serving the destination, offering 59 non-stop market pairs to 49 unique airports. In addition to the Allegiant and Frontier routes, American Airlines has introduced service from Dallas Fort Worth and Chicago O'Hare; and Spirit is flying from John Glenn Columbus International Airport and Minneapolis–Saint Paul.
Elite Airways and Sun Country - both new airlines for the airport - have also introduced Albany, White Plains and Newport News/Williamsburg, and Minneapolis–Saint Paul respectively.