Innovation 'has to be at the heart of an airline's strategy'
Big Data, fostering innovation and the development of unmanned aircraft were just some of the topics addressed in the Routes Asia 2018 'Aviation: The next generation' panel debate.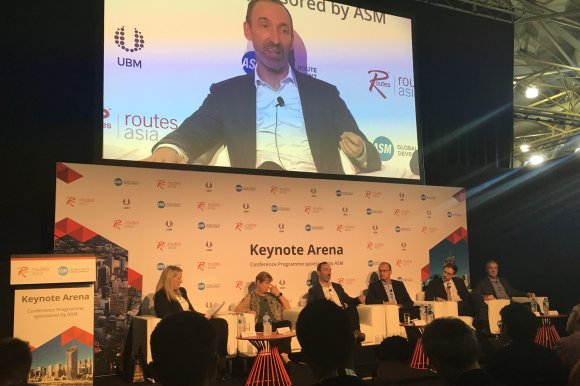 What does the future hold for the aviation industry given the pace of technological advances? That was a theme of the 'Aviation: The next generation' panel session, which heard from an expert line-up of speakers.
Featuring on the panel was Gareth Evans, chief executive, Jetstar Group; Julieanne Alroe, chief executive and MD, Brisbane Airport; Professor Tim Ryley, professor of aviation, Griffith University; Tony Fraser, managing director, Australia Pacific Airbus Group; and William Horrocks, chief executive, Aviation Australia.
Evans discussed how important innovation is in the aviation industry but said it is vital that airlines continue to evolve and invest in talent.
"The challenge for us all is to bring in the people who are going to take the industry to the next level as the rate of change will probably increase exponentially compared to where we are today," he said.
"I have a mobile device in my pocket that can look after all of my travel needs. How airlines and everyone in the value chain communicate with customers using such devices is going to differentiate the good airlines and bad airlines.
"How we use data to contextualise and personalise the customer experience well before booking to well after you get home from the end of your journey is going to be another differentiator. How we leverage the huge amount of data we have to provide efficiencies and put that information in the hands of our staff so they can make the right decisions will also be key."
Evans added that if Jetstar doesn't get it right, then its competitors will. "Innovation is therefore an enormous part of any airline's future strategy," he said.
Alroe said the aviation industry has been among the most innovative over the past century. But she stressed: "Innovation doesn't have to be digitally based. It is change that adds value. Probably one of the most disruptive things that came into our industry was low-cost carriers. They opened up markets."
She added that the innovation and entrepreneurial strengths of the younger generation coming into the industry is an inspiration. "They are not bound by the same paradigms that previous generations were bound by," she said.
"A challenge is now to make sure that that older generation are thinking innovatively and developing the skills and acumen to make decisions. But when we invest in innovation there has to be a value proposition."
Ryley said it is important that the aviation industry employees of tomorrow are not only able to understand Big Data, but also interpret it. "There has to be a focus to ensure they have the critical thinking to present it in a way that their managers will be able to understand," he added.
Asked about the development of unmanned aircraft, the panel agreed that even if the technology is in place in the future, there are a multitude of legal, political and safety issues before commercial unmanned aircraft could take to the skies.
However, Horrocks said it would be more plausible for there to be unmanned freight aircraft, rather than passenger jets.