Rob Sharp on Virgin Australia's international strategy
Virgin Australia's group executive Rob Sharp has discussed the carrier's future international focus, its move from a low-cost to a full service model and its growing relationship with HNA Group.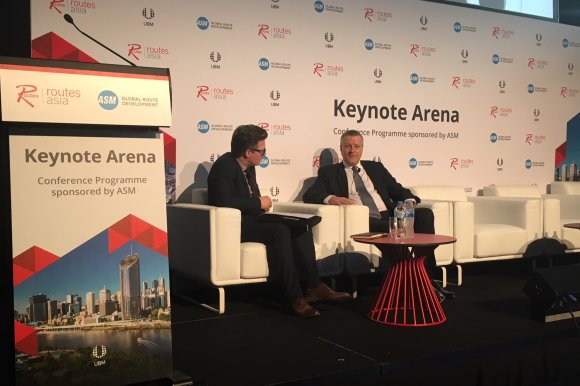 Virgin Australia is focused on growing its international network in Greater China and North America, the carrier's group executive Rob Sharp has told delegates at Routes Asia 2018 in Brisbane.
In a wide ranging interview conducted by ASM's Nigel Mayes, the former chief executive of Virgin Australia's low-cost arm Tigerair said the airline's domestic network will remain stable over the coming years, but it is looking to expand its international focus using its fleet of wide-bodied Airbus A330 aircraft.
"In July last year we started the Hong Kong service - as well as Melbourne-Los Angeles - and those routes are typical of where we're heading. North America and Greater China are two key segments and we're focusing on those two markets," he said.
In addition to the Melbourne services, Virgin Australia in March 2018 confirmed plans to launch flights between Sydney and Hong Kong from mid-2018. Subject to authorisation, the carrier will operate daily return services between the two cities with its dual aisle Airbus A330-200 aircraft.
"Sydney-Hong Kong was quite a challenge and we would have liked to have done it a lot earlier," Sharp said.
"Technically Hong Kong Airport is full so securing the slots wasn't easy. "I was therefore pleased that we managed to get the service up and running and that will commence later this year.
"Melbourne gave us a lot of confidence to pursue this. From day one the traffic flows have been very strong and our partner, Hong Kong Airlines, has brought a lot of traffic through."
He added that the Virgin model is to work with industry partners: "We're not going to go out and buy a massive fleet of aircraft to grow routes.
"What we do have is a number of A330 aircraft that currently fly east to west coast Australia and those aircraft are all but internationally configured. The Sydney-Hong Kong service is using one of those A330 aircraft."
Virgin Australia secured an investment from China's HNA Group in 2016, taking its stake to about 19 percent. The deal also includes codesharing, frequent flyer programs, lounge access and promotion of tourism and business travel.
Sharp said the relationship with HNA, which owns Hainan Airlines and Hong Kong Airlines, will be important to its future strategy.
"It has been good to have the HNA Group come on board," he added. "They have been working with us at an operational level and we're having conversations about revenue management.
"That's phase one and phase two will be a deeper set of approvals on flying rights further into China. That will logically be the next step.
"We're continuing to deepen the alliance and they will be a great partner for us into the Greater China market."