Governments must change regulations to allow technology use
Governments in Asia may have to change regulations if they are to feel the full benefits of airport technology.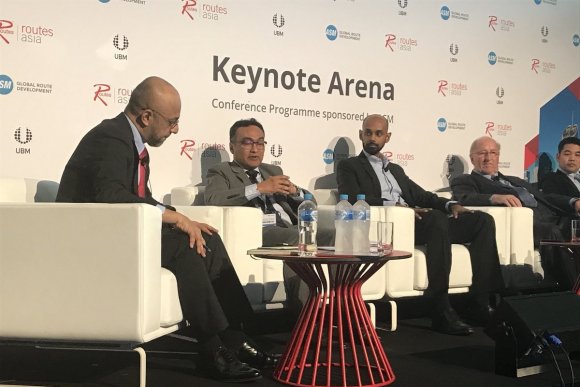 Speaking in a panel debate on how Asia Pacific can guarantee sustainable growth at Routes Asia 2018 in Brisbane, Mohamed Sallauddin, general manager, airline marketing, Malaysia Airports Holdings Berhad said technology like mobile phone check ins was increasingly speeding up passenger movement at airports and so giving a better experience.
However, he added until certain governments in the region get rid of antiquated rules like insisting a boarding pass is stamped, they will not be able to feel the benefits.
"Governments need to change regulations to allow technology to be used," Sallauddin said.
The failure to adapt the latest technology was just one of the problems threatening trouble-free aviation growth in the region.
Bangkok Airways adviser – network management Peter Wiesner said airport infrastructure, including runways and air traffic control systems, were both proving problematic despite being an appetite for travel.
He added: "We all know people want to travel. Disposable income in many countries in this area has grown dramatically in the last few years."
Malindo Air head of network planning Nimalan Vikneswaran agreed infrastructure was an issue, but more importantly so was having the correct personnel available.
He said: "Ground handlers cause problems when we try to increase flights. Most of them are coming up and saying we don't have enough manpower at certain times of the year to sustain the growth. We're having to delay most of our plans by three months to a year to get the manpower."
He also warned a shortage of pilots would also increasingly bite into the aviation industry's expansion plans.
Meanwhile, Nok Air vice president – government affair and schedules planning Surachart Angkasuwan said governments also need to work out more efficient ways of ensuring travellers are properly compensated by airlines in the wake of problems.
However, the entire panel agreed that none of the problems are truly insurmountable and, with the right co-ordination and effort, solutions could be found to accommodate more than 2 billion travellers predicted to take to the skies in the region by 2036.