London-Perth the 'start of a new frontier' for Qantas
Qantas will on Saturday launch a daily service linking London and Perth, becoming the first non-stop regular link between the UK and Australia. Routesonline looks in more detail at what is set to become one of the world's longest flights.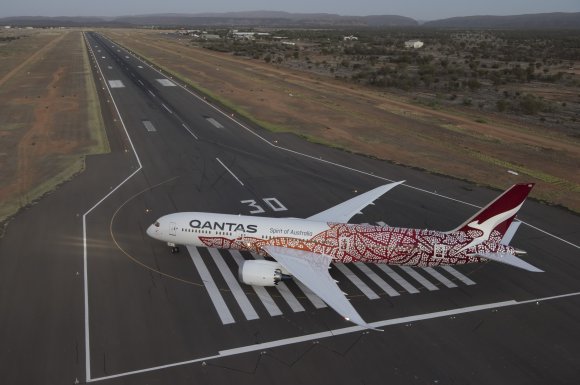 When Qantas created the Kangaroo Route between London and Australia in 1947, it took four days and nine stops. From 25 March 2018, it will take just 17 hours from Perth non-stop.
QF10 will depart London Heathrow at 13:30, arriving into Perth at 13:15 the next day. The Qantas 787-9 Dreamliner will then fly on to Melbourne.
The route will become the first non-stop passenger service to directly link UK - and Europe - with Australia, replacing the airline's existing Melbourne-Dubai-London service.
At 14,498km, it will also become the second longest flight in the world.
Speaking at Routes Asia 2018 in Brisbane, Australia's assistant minister for trade, tourism and investment Mark Coulton said the route was a landmark for air services to the country.
"The development of ultra-long aircraft is a game-changer," he said. "It will open up numerous opportunities going forward as the convenience and appeal of a non-stop flight cannot be underestimated.
"A 25-hour flight with a break in the middle is obviously less desirable than going non-stop."
Coulton said that Australia is enjoying record tourism growth with 8.81 million international tourists spending AS$41.3bn during the past year and new air services, such as the London-Perth route, will further strengthen the country's economy.
Lyle Brownscombe, senior manager network strategy at Qantas, agreed that technology will play a key part in shaping the Australian flag carrier's network in the future.
"Probably the biggest change in our strategy is with the Perth-London route - that's a big step and it's because technology is only just enabling us to do that," he said.
"It will connect two really big markets with a non-stop service - we think this is the start of a new frontier of really interesting opportunities.
"When you look at big unserved markets, they are all really long distances."
Brownscombe said he hoped Project Sunrise - Qantas' challenge to Airbus and Boeing to develop an aircraft capable of operating non-stop flights from Sydney to London and New York - would become a reality by mid-2020s.
QF10 facts
14,498km flight will take approximately 17 hours (slightly more or less depending on winds)
Longest flight on the Qantas network, followed by is non-stop A380 Sydney-Dallas service (13,730km)
Will be the longest Boeing Dreamliner flight in the world
Adds to Qantas' list of flying firsts, including the first passenger jet services across the Pacific in 1959 with a B707 and the first (and only) non-stop passenger flight from London to Sydney in 1989 with a B747-400
Conrad Clifford, the regional vice-president for Asia-Pacific at the International Air Transport Association (IATA), added that advances in aircraft technology will open up further ultra-long-haul routes in the coming years.
"The Perth-London non-stop that Qantas is introducing is really interesting," he said. "It highlights how advances in technology can make long-haul city pairs viable.
"Thanks to new fuel-efficient aircraft, it means the whole long-haul story has a new chapter ahead of it. You can potentially put together two long-haul secondary airports and make the route work."
World's longest non-stop flights
| | | | |
| --- | --- | --- | --- |
| | Route | Carrier | Distance (km) |
| 1 | Auckland International - Doha | Qatar Airways | 14,526 |
| 2 | London Heathrow - Perth | Qantas Airways | 14,498 |
| 3 | Auckland International - Dubai International | Emirates | 14,193 |
| 4 | Singapore Changi - Los Angeles International | United Airlines | 14,096 |
| 5 | Sydney Kingsford Smith - Houston George Bush | United Airlines | 13,829 |
| 6 | Sydney Kingsford Smith - Dallas/Fort Worth | Qantas Airways | 13,802 |
| 7 | San Francisco - Singapore Changi | Singapore Airlines, United Airlines | 13,575 |
| 8 | Atlanta Hartsfield-Jackson - Johannesburg O.r. Tambo | Delta Air Lines | 13,573 |
| 9 | Los Angeles International - Abu Dhabi International | Etihad Airways | 13,478 |
| 10 | Dubai International - Los Angeles International | Emirates | 13,395 |