Revisit the key news stories, quotes, audio and images from the 16th annual Routes Asia in Brisbane, the only route development event dedicated to the Asia Pacific region.
China is key to Jetstar's expansion
China is at the core of the Jetstar Group's future route development strategy, its CEO has admitted. Gareth Evans said China's growth over the next ten years would be "phenomenal". "There's a huge opportunity there (in China). The amount of growth we've experienced is massive and the amount we're going to experience in the next ten years is phenomenal," he said. "We've just got to be really strategic about how we do it as you can lose a lot of money if you're wrong as it is so competitive." Read more.
Rob Sharp on Virgin Australia's international strategy
Virgin Australia's group executive Rob Sharp has discussed the carrier's future international focus, its move from a low-cost to a full service model and its growing relationship with HNA Group. "In July last year we started the Hong Kong service - as well as Melbourne-Los Angeles - and those routes are typical of where we're heading. North America and Greater China are two key segments and we're focusing on those two markets," he said. Read more.
Europe a long-term plan for Thai AirAsia X
Entering the European market is a long-term plan for Thai AirAsia X, the long-haul low-cost carrier's chief executive has confirmed. Nadda Buranasiri said: "We haven't been able to grow for the past two years because of Thailand's red flag. So this is going to be the year that we start expanding, but in a profitable way. We'll add three new aircraft this year - taking us from six to nine - and we're going to put those aircraft into existing strong markets to increase frequencies. We will also open new routes where we fully understand the market." Read more.
Qatar vows to do "whatever it takes" to create Brisbane route
Qatar Airways is determined to overcome the legislative hurdles to create a route to Routes Asia 2018 host Brisbane. Fathi Atti, advisor - aviation and air transport matters, told the event's conference programme that the airline would be making the city a key priority. "My colleague Akbar Al Baker (CEO of Qatar Airways) has said this before and it hasn't happened yet," said Atti. "But we will do whatever it takes to get a route into Brisbane." Read more.
Kuala Lumpur International Airport wins the Routes Asia 2018 Marketing Awards
Kuala Lumpur International Airport was crowned the overall winner of the Routes Asia 2018 Marketing Awards. Mohamed Sallauddin, general manager of airline marketing for Malaysia Airports Holdings Berhad, said: "This is a fantastic achievement and tremendous recognition of the success we have achieved so far. Over the past two years we have reimagined how we work with airlines and this rewards the effort the team has made." Read more.
Philippine Department of Tourism to host Routes Asia 2019 in Cebu
The Routes Asia route development forum has been officially handed over to Cebu, Philippines – the host destination for 2019. This will be the second time that Philippine Department of Tourism brings Routes Asia 2019 to the Philippines after successfully hosting the 2016 event in Manila. Hosting will strengthen Cebu's connectivity and positioning as a gateway to the rest of the Philippines as well as a major transfer hub to other countries. Read more.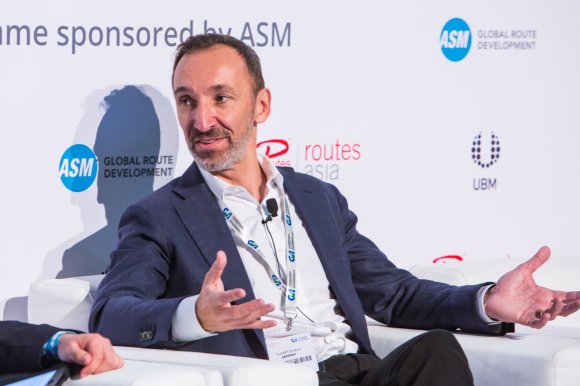 Routes Podcast: Jetstar's Gareth Evans
The seventh episode of the Routes Podcast features Gareth Evans, the chief executive of low-cost carrier Jetstar. Listen here.
Live blog: Routes Asia 2018
Revisit our live blog from Routes Asia 2018, which featured key news, quotes, audio, images and tweets from the event. Read more.
Routes Asia 2018 image gallery
A selection of photos from the 16th Routes Asia in Brisbane. Click here to view the photos on our Facebook page.