777s to be BA's competitive weapon on long-haul routes - Cruz
British Airway's newly refurbished Boeing 777s will allow British Airways to compete "effectively" with the likes of Norwegian on long-haul routes, the airline's chief executive and chairman Alex Cruz has told delegates at Routes Europe 2018 in his native Bilbao.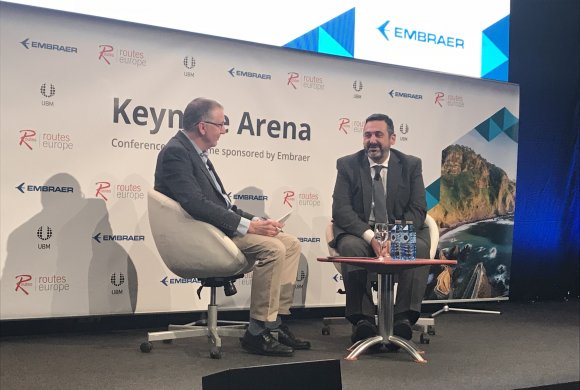 British Airway's newly refurbished Boeing 777s will enable it to better compete with low-cost carriers on long-haul routes, according to the airline's chief executive and chairman Alex Cruz.
BA took delivery of the first ten-abreast refurbished aircraft in March and the first routes to enjoy the fully refreshed aircraft will be Punta Cana, Cancun and Kingston, Jamaica, before it is gradually rolled out across all of British Airways' 22 long-haul routes from Gatwick.
Speaking at Routes Europe 2018 in his native Bilbao, Cruz said BA would now be in a better position to compete with the likes of Norwegian.
"When I first came in, I saw what the Gatwick team had been doing over a long period of time and the challenge was to understand how BA could deliver a quality product and be competitive at the same time, particularly on some of the routes that our competitors were starting," he said.
"The answer to that has been the newly refurbished 777s. They look fantastic - like a new aircraft - with entertainment systems and charge points. But the most important thing is that the cabin configuration gives us a good opportunity to compete effectively.
"From a BA point of view, they provide a platform to compete and Gatwick is the right place from which to do it."
The World Traveller Plus cabin in the fleet's three-class 777s are being doubled from 24 to 52 seats, while the Club World cabin are being reduced from 40 to 32 seats. BA's World Traveller economy cabin goes from nine to ten across with 36 extra seats.
Earlier this month, it emerged that BA's parent, International Airlines Group (IAG), had taken a minority stake in Norwegian with a view to launching a full takeover of the Scandinavian carrier.
"The minority investment is intended to establish a position from which to initiate discussions with Norwegian, including the possibility of a full offer for Norwegian," the group said at the time.
Although Cruz refused to be drawn on further talk of a potential offer for Norwegian, he said that IAG's long-haul low-cost brand LEVEL has enjoyed a "very successful" start since it began operations last summer and was now an important part of the group.
Asked about the competition among IAG's airlines - Aer Lingus, BA, Iberia, LEVEL and Vueling - Cruz said the brands work together but competition does make each of them stronger.
"The lucky part of it is that all the chief executives have been working together for a very long time and know each other well," he added.
"There's a sense of teamwork there. Yes, we all have our own identities, our own heart and wishes, and our own pride around our brand, but IAG makes the decisions on where the hard capital is allocated.
"Therefore there's a tremendous need to make sure we deliver the best metrics - both financially and through customer satisfaction."
Cruz was interviewed on stage by John Strickland of JLS Consulting as part of the Routes Europe 2018 Conference Programme, sponsored by Embraer.