JetBlue returns to Ontario as part of US regional reshuffle
JetBlue is to return to California's Ontario International Airport after a ten-year absence as part of a regional flight shuffle that also sees it up flight frequencies out of Burbank and Palm Springs and scale back operations from Long Beach.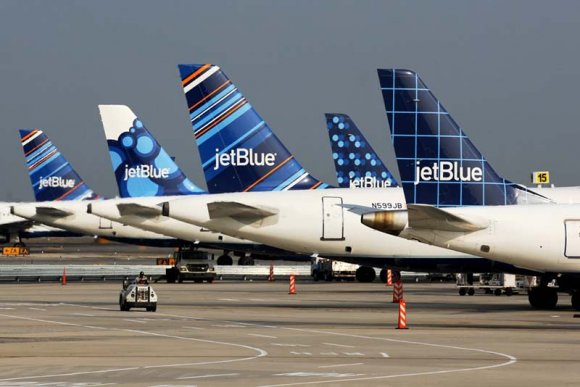 JetBlue has unveiled a series of network changes designed to "better meet the needs of coast-to-coast travellers facing limited competition".
The carrier is planning to alter its services to the Los Angeles area by resuming flights from Ontario International after a decade, increasing flights at Burbank and expanding seasonal service to Palm Springs, with the addition of premium Mint service during the holidays.
However, JetBlue is cutting back its service at Long Beach Airport from 35 to up to 23 daily flights. The move comes just months after the city council rejected a plan to build facilities aimed at adding international flights.
Elsewhere, the airline is launching services from Steamboat Springs, Colorado and Bozeman, Montana.
"We continue to focus on leveraging the popularity of our transcon service, which is producing excellent results for our business," said Marty St. George, executive vice president, commercial and planning at JetBlue.
"As we advance our West Coast strategy, we are bringing more flying options that our customers want and are growing our brand in hot new destinations that are thrilled to have JetBlue as a new option for travel."
Ontario International - Ontario will become the tenth airport served in California by JetBlue. The carrier previously served Ontario between 2000 and 2008, but has been absent for the past ten years.
On 5 September it will launch non-stop flights between ONT and New York's John F. Kennedy, becoming the only airline to offer non-stop service to the East Coast from Ontario.
"The question we get most often is 'when might JetBlue come to Ontario?' So we are thrilled to say that that day has come," said Alan D. Wapner, president, Ontario International Airport Authority. "JetBlue's confidence in ONT as a gateway airport able to provide first-rate facilities and services is well-placed."
Long Beach - Although the carrier is adding Steamboat Springs and Bozeman flights from Long Beach, as well as a second daily flight to Boston from 5 September, JetBlue is reducing frequencies on other routes from the airport.
The following routes are affected:
Las Vegas' McCarran – Three times daily service, down from six
Oakland International– Twice daily service, down from four
Portland International – Once daily service, down from two
Salt Lake City International – Up to three times daily service, down from four
San Francisco International – Twice daily service, down from five
San José International – Twice daily service, down from four
Seattle-Tacoma International – Once daily service, down from two
JetBlue will continue to offer its current frequencies of non-stop service between Long Beach and New York-JFK, Fort Lauderdale-Hollywood International, Austin–Bergstrom International, Reno–Tahoe International and Sacramento International.
"Revising our schedule allows us to offer customers new destinations, capitalise on our leadership position in transcontinental flying and advance our margin commitments in Long Beach where certain flying constraints have created challenges," said St. George.
Steamboat Springs - JetBlue will launch new, seasonal service in Steamboat Springs with three nonstop routes connecting the resort destination to Boston Logan International, Fort Lauderdale-Hollywood and Long Beach. Services will begin on 15 December.
Bozeman Yellowstone - Seasonal flights between Bozeman Yellowstone and Long Beach will begin on 13 December, operating on Thursdays and Sundays. The flights will be JetBlue's first-ever scheduled service in Montana.
Burbank - JetBlue has operated from Hollywood Burbank Airport since 2005 and will add a daily service to Boston from 5 September. In addition, it will add a second daily New York-JFK flight on the same date.
Palm Springs - JetBlue is returning to Palm Springs for its fourth season and adding its premium Mint service during the peak December and January travel days. Flights between Palm Springs International and New York-JFK will resume on 10 October, initially four times per week but rising to daily from mid-December.
In addition to the network changes, JetBlue this week posted its financial results for the first quarter of the year. Pre-tax income was $110m, a decrease of 9.2 percent from the first quarter of 2017.
The airline said capacity is expected to increase between 5 percent and 7 percent year-on-year in the second quarter of 2018.