Ethiopian adds more Bombardier turboprops and expands network
Ethiopian Airlines has concluded a firm order for ten new Bombardier turboprops at the same time as launching three new routes.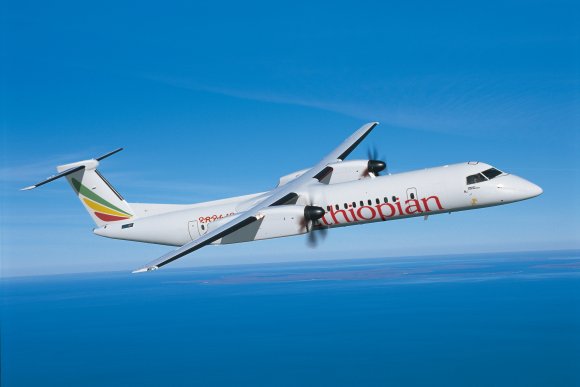 Flag carrier Ethiopian Airlines has placed a firm order for ten new Q400 aircraft, which includes purchase rights for an additional five. Based on the list price of the Q400 the order is valued at approximately $332m.
The Q400 has a standard single-class configuration with an optional dual-class interior. There is also an extra-capacity configuration option offering up to 90 seats for higher-density markets.
"The Bombardier turboprops continue to deliver unmatched performance to our operators, and we are proud that the flag carrier of Ethiopia is once again recognising its tremendous value by increasing its fleet of Q400 aircraft," said Fred Cromer, president of Bombardier Commercial Aircraft.
"The market trend for high-performing and larger turboprops is intensifying, and this fifth reorder is a great example of the Q400 turboprop success story and the value it creates for clients around the world."
In addition to the Bombardier deal, Ethiopian has launched new routes from Addis Ababa to Kisangani and Mbuji Mayi in the Democratic Republic of the Congo and Nosy-Be in Madagascar.
Chief executive Tewolde GebreMariam said: "When we open these three destinations, we may look at only the direct services we are going to operate between Addis and these destinations. But what is more important and may not be visible is that we are connecting these destinations with more than 100 destinations all over the world.
"Kisangani and Mbuji Mayi will be two additional points to the already three points we fly in the DRC; so we are now flying to Kinshasa, Goma, Mbuji Mayi, Kisangani and Lubumbashi.
"The beautiful island of Nosy-Be is a popular tourist destination for Europeans, and since we announced that we are going to connect it with our network in a direct service, the Madagascar Embassy in Addis has been overwhelmed by visa requests.
"This shows that the trend is changing; nowadays Africans are visiting African friends for tourism which is very encouraging development."
With the launch of the new flights, Ethiopian now serves 58 destinations in Africa and more than 100 destinations globally.