Swoop on track for launch despite labour dispute
WestJet's new ultra low-cost arm will have six aircraft in service before the end of the year, the carrier's chief executive has confirmed, with plans to expand trans-border and internationally.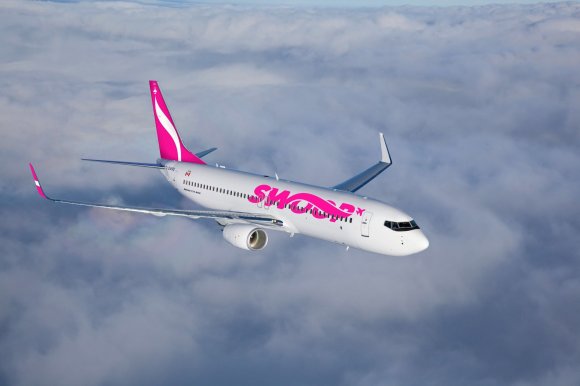 Swoop's launch remains on track for 20 June despite an ongoing labour dispute at parent WestJet that is likely to contribute to lower revenues per available seat mile during the second quarter of the year.
In a conference call with analysts, WestJet's chief executive Ed Sims said the company's new ultra low-cost brand was progressing "towards operational readiness" with a fully crewed launch aircraft and "highly experienced pilots".
"We will look to continue to grow the Swoop network and we plan to launch exciting destinations in the trans-border and international markets later this year," he added.
"Our first aircraft is currently getting reconfigured with its 189 seats, and is being painted in the Swoop delivery."
Swoop will have two Boeing 737-800 aircraft in service in June, a third aircraft in service in July, six aircraft in service by early Q4 and a full fleet of ten aircraft in service by the third quarter of 2019.
"The aircraft we are transferring to Swoop will all identified as excess capacity in our WestJet mainline business that would otherwise have been returned to their respective lessors," Sims said.
He added that Swoop's network would be incremental to WestJet's, rather than cannibalising it, and claimed that early bookings have been strong with signs that Canadians are "willing embrace the ultra-low cost model".
Swoop will fly from Abbotsford, Edmonton, Hamilton, Halifax and Winnipeg.
The planned launch of the ULCC comes despite looming strike action from WestJet pilots. The carrier's pilots last year voted in favour of joining the Air Line Pilots Association and have been in contract negotiations since September.
However, a deal has yet to be reached, with the hiring of outside pilots for Swoop said to be hampering efforts.
Sims was speaking following the publication of WestJet's financial results for the first quarter of 2018. Net earnings fell by 20.4 percent to C$37.2m, compared with the first three months of 2017, although revenues grew by 6.9 percent to C$1.19bn.
At the same time, the airline also unveiled its new Boeing 787-9 Dreamliner livery, logo and cabin interior including it first-ever business class cabin. The reveal is part of WestJet's lead-up to the arrival of its Boeing 787-9 Dreamliners in early 2019.
"The introduction of Boeing's 787-9 Dreamliner, a state-of-the-art aircraft, is the dawn of a new era for WestJet and the next step in our transformation to a global network airline," said Sims.
The carrier has firm orders of ten 787-9 aircraft and options for another ten.