Bulletin board: aviation industry news round-up
This week: Royal Brunei to launch London non-stop; Allegiant takes delivery of first US-assembled A320; Aeromexico explains Barcelona cancellation and more.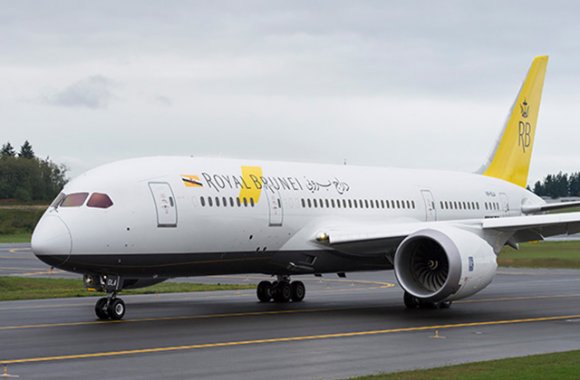 A round-up of the latest news from the aviation industry this week.
Royal Brunei to launch London non-stop
The first non-stop route between Brunei and England is being launched later this year.
Royal Brunei Airlines is opening a daily service between Brunei and London Heathrow from 28 October. The carrier currently routes its daily London flights via Dubai.
"The through flight via Dubai has served us well however with the demand for more direct routing from our guests, it becomes an important commercial imperative to provide that," said Karam Chand, Royal Brunei's chief executive.
The new non-stop service will reduce flight duration between London Heathrow and Brunei International by about three and a half hours.
It will also allow the airline to operate a one-stop service between Melbourne and London, with the flight duration on this route reduced from the current 28.4 hours (routing via Dubai) to 23.2 hours.
Royal Brunei will continue to offer a four times weekly service between Brunei and Dubai from 29 October.
Allegiant takes delivery of first US-assembled A320
US ultra-low-cost carrier Allegiant has this week welcomed its first US-produced A320 aircraft from the Airbus' manufacturing facility in Mobile, Alabama.
The Airbus A320 is the 11th of 13 new A320 aircraft scheduled to be inducted into Allegiant's fleet this year. The previous ten have been assembled in Airbus facilities in Toulouse and Hamburg.
This delivery marks another step in Allegiant's planned transition to a single fleet type by the end of 2018. Allegiant currently has a total of 99 Airbus aircraft either in service or committed for future delivery.
Aeromexico explains Barcelona cancellation
Aeromexico has cancelled the planned launch of a service from Mexico City to Barcelona.
Operations were set to begin on 1 November 2018, but the airline has blamed Spanish approvals granted to Emirates for flights to Mexico City from Barcelona.
"This decision is taken in light of the authorisation of fifth freedoms granted to an airline of the United Arab Emirates, allowing them to offer flights between Mexico and Spain as if it were a Mexican airline," a statement said.
CEO change at Jetlines
Lukas Johnson, the former senior vice president of commercial at Allegiant, is to take over as chief executive of fledgling Canadian airline Jetlines. He will succeed Stan Gadek from 18 June 2018.
"Based on my experience and deep knowledge of the Canadian market, there is a significant opportunity for us here and I look forward to leading the team to success," said Johnson.
He will also be making a CAN$700,000 investment into the company's subsidiary, Canada Jetlines Operations.
Airbus takes steps to comply with WTO over subsidies
Airbus said it has taken steps to comply with a World Trade Organization (WTO) ruling on subsidies for its A350 and A380 aircraft.
"Airbus and the European member States France, Germany, Spain and the UK have agreed on some amendments to A380 and A350XWB Reimbursable Launch Investment (RLI) loans," Airbus said in a statement.
"The terms of these amendments – like the terms of the original RLI contracts themselves – remain confidential but they are aligned with current market conditions,"
Earlier this month, the WTO ruled the European Union failed to comply with requests to end subsidies for Airbus.
Ryanair issues further Brexit warning
Ryanair has again warned that it remains "concerned at the likely impact of a hard Brexit".
In a statement the low-cost carrier said that while there is a general belief that an 18 month transition agreement from March 2019 to December 2020 would be implemented and further extended, it will continue to plan for a hard Brexit in March 2019.
"In these circumstances, it is likely that our UK shareholders will be treated as non-EU and this could potentially affect Ryanair's licencing and flight rights," it said.
"Accordingly, in line with our Articles, we intend to restrict the voting rights of all non-EU shareholders in the event of a hard Brexit, so that we can ensure that Ryanair is majority owned and controlled by EU shareholders at all times to comply with our licences.
"This would result in non-EU shareholders not being able to vote on shareholder resolutions."
In the meantime, Ryanair has applied for a UK AOC and hopes to receive it before the end of the year.