Bulletin board: aviation industry news round-up
This week: Airbus and Bombardier's C Series deal; Borghetti to leave Virgin Australia; Swoop granted AOC; Volotea secures new investors and more.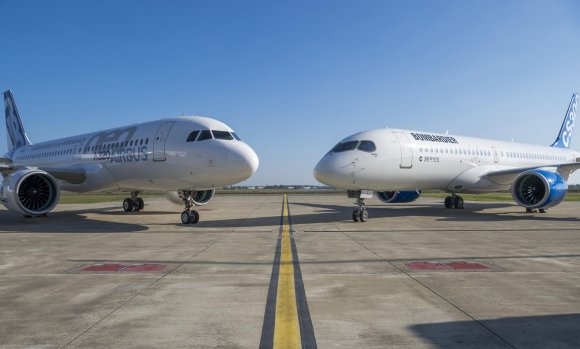 A round-up of the latest news from the aviation industry this week.
Airbus and Bombardier's C Series deal set to close
Airbus will acquire a majority 50.01 per cent stake in Bombardier's C Series commercial jet program on 1 July 2018 after receiving regulatory approvals.
The companies said the partnership brings together two complementary product lines, with 100-150 seat market segment projected to represent 6,000 new aircraft over the next 20 years.
They added that the addition of Airbus' global reach would create "significant value" for C Series' customers, suppliers, employees, shareholders and communities.
The partnership's head office, primary assembly line and related functions will be based in Mirabel, Québec.
Alain Bellemare, Bombardier president and chief executive, said: "The C Series is widely recognized as the most advanced and efficient aircraft in its class and this partnership will ensure its commercial success."
Borghetti to leave Virgin Australia
Virgin Australia chief executive John Borghetti will leave his role in 2020, the airline has confirmed.
The carrier said Borghetti "has advised the board that he will not renew his contract post 1 January 2020".
"Mr Borghetti has signalled his desire to depart by this date to enable the group ample time to recruit an incoming CEO and allow for an appropriate transition," a statement added.
Borghetti, joined the airline eight years ago, said it had been "a privilege to serve as CEO of the Virgin Australia Group and to lead a wonderful team of 10 000 people".
Swoop granted AOC
WestJet's ultra low-cost offshoot Swoop has been granted its air operating certificate (AOC) by Transportation Canada.
Steven Greenway, president and chief executive of Swoop, said receiving the AOC "ticks the last check-box".
"We're immensely proud of the Swoop inflight, maintenance and operations teams for getting us here. And we're ready for take-off on 20 June," he added.
Swoop's inaugural flight will be from Hamilton, ON to Abbotsford, BC on 20 June.
EU approves London Luton deal
The European Commission has approved AMP Capital's acquisition of a stake in London Luton Airport from private investment house Ardian.
In a statement, the Commission said: "The Commission concluded that the proposed acquisition would raise no competition concerns because of the limited impact it would have on the market."
Ardian Infrastructure acquired 49 per cent of LLA in 2013 and, together with airport operator Aena, has invested in developing the airport, with passenger numbers increasing from 9.7 million to 15.8 million in 2017.
AMP also owns a 49 per cent interest in Newcastle Airport and bought Leeds Bradford from Bridgepoint in 2017.
Volotea secures new investors
Spanish carrier Volotea has secured investment from five different private equity firms.
Elysium, HRS Management, Meridia Capital, Rijn Capital and Rocinante join Axis Participaciones Empresariales as equity investors in the airline.
Volotea's founder and chief executive Carlos Muñoz, as well as its core management team, are also increasing their investment in the company.
The new shareholders replace CCMP and Corpfin, which helped to launch Volotea in 2011.
Volotea was advised by Morgan Stanley and Pérez-Llorca. Terms of the investment have not been disclosed.
First US-produced NEO delivered
Hawaiian Airlines has taken delivery of its first US-produced A321.
The aircraft, delivered from the Airbus facility in Mobile, Alabama, is also the first new engine option aircraft (NEO) delivered from Airbus' US factory. It is powered by a Pratt & Whitney PW1000G high-bypass geared turbofan engine.
Jon Snook, executive vice president and chief operating officer at Hawaiian Airlines, said: "The A321neo is the ideal aircraft for us to share our Hawaiian hospitality with more guests as we grow our western US network and provide greater access to our entire island chain."