Bulletin board: aviation industry news round-up
This week: Cathay Pacific, Flybe, Norwegian, Etihad, KLM, Delta Air Lines, Wizz and more.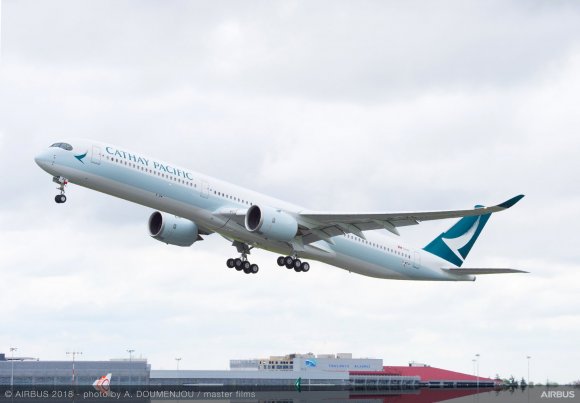 A round-up of the latest news from the aviation industry this week.
Cathay Pacific becomes second A350-1000 operator
Cathay Pacific has become the second airline to operate the A350-1000, the world's newest long-range widebody airliner. The airline took delivery of the aircraft at a special event in Toulouse, France.
The aircraft is the first of 20 A350-1000s ordered by Cathay Pacific and will join the carrier's growing fleet of A350 XWB aircraft, which already includes 22 A350-900s.
It will be deployed on the airline's new non-stop route from Hong Kong to Washington D.C., representing the longest flight – approximately 17 hours – performed by any airline out of Hong Kong.
Flybe cuts pre-tax losses
Flybe chief executive Christine Ourmières-Widener has said her first year at the helm had been marked by "significant progress" as it trimmed pre-tax losses.
The company reported a pre-tax loss of £9.4m for the year to 31 March 2018, an improvement on its £48.5m loss the year before.
Group revenue was up 6.4 percent, increasing from £707.4m to £752.6m. Passenger numbers increased from 8.8 million to 9.5 million.
Ourmières-Widener said: "With our fleet size under control, we are already delivering improvements to passenger yield, load factors and revenue."
"Solid first steps" for Etihad's turnaround
Etihad Airways increased revenues from core operations by 1.9 percent to $ 6.1bn in 2017, while reducing losses in the core operations by $ 432m to $ 1.52bn.
The airline carried 18.6 million passengers at a 78.5 percent load factor. Available Seat Kilometres (ASKs) increased by 1 percent in 2017.
Chief executive Tony Douglas said: "These are solid first steps in an ongoing journey to transform this business into one that is positioned for financially sustainable growth over the long term."
Etihad Airways received 12 new aircraft in 2017, including two Airbus A380s, nine Boeing 787-9 Dreamliners, and an Airbus A330F. These aircraft replaced 16 older Airbus A340, A330, A319 passenger and A330F cargo aircraft, which exited operation.
In 2017, the airline announced that it will cease operating to Dallas / Fort Worth, Entebbe, Jaipur, San Francisco, Tehran, and Venice. A new route between Abu Dhabi and Baku was launched in March 2018 and services to Barcelona will start on 21 November 2018.
KLM to introduce Economy Class
KLM Royal Dutch Airlines is to offer a new Economy Class aboard its intercontinental flights out of Amsterdam.
The new service will be introduced on the following nine destinations on 1 July 2018: Bonaire (via Aruba), Entebbe (via Kigali), Fortaleza, Osaka, Hong Kong, Vancouver, Seoul, Rio de Janeiro and Houston.
From the start of our winter schedule on 28 October, the service will be available on all intercontinental flights.
'Several parties' interested in Norwegian
Norwegian chief executive Bjorn Kjos said the airline has attracted takeover interest from several parties.
He was speaking after it emerged Lufthansa is considering submitting a proposal. British Airways owner IAG has already had two offers rejected after buying a 4.6 percent stake in April.
Kjos said it was a "good thing" that the carrier is attracting interest as it must be "doing something right". Following news of Lufthansa's interest, shares in Norwegian rose by 5 percent.
Wizz to launch four new Luton routes
Low-cost carrier Wizz is launching four new routes from London Luton Airport this winter.
The new services are to the Israeli seaside resort of Eilat (Ovda), the gateway to the French Alps in Grenoble, Verona in Italy and Tromsø in Norway.
The airline is now, the second-largest at London Luton and has increased its operations at the airport by 10 percent year-on-year.
Air India sale on hold
The sale of Air India has been officially put on hold, civil aviation minister Jayant Sinha has confirmed.
In a TV interview he admitted that the process is over after the loss-making carrier failed to receive a single expression of interest by the closing deadline of 31 May 2018.
The Indian government was open to selling a 76 percent stake in the airline. Sinha said the government would continue to support Air India as it assesses what to do next.
Delta orders 20 CRJ900s
Delta Air Lines is to buy 20 CRJ900 regional jets from Bombardier with a list price totalling about $961m. However, the actual purchase price has not been disclosed.
The US carrier will take delivery of the dual-class aircraft with 70 seats in late 2018, replacing older aircraft models. The planes will fly under the Delta Connection brand.
The CRJ900s will launch Bombardier's new ATMOSPHÈRE cabin. Key features of the new interior are comprised of larger passenger living space, wheel-first roller bag capability, more spacious lavatory and increased cabin connectivity options.
Delta has a fleet of more than 450 regional aircraft, including 151 CRJ900s operated under several Delta Connection carriers.