In pictures: Airbus shows off its A220
Airbus has rebranded the Bombardier C Series aircraft family as the A220-100 and A220-300.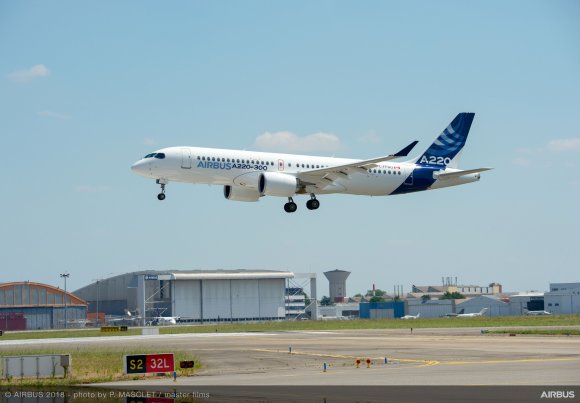 Airbus has revealed the A220 at a ceremony held at its Henri-Ziegler Delivery Centre, near Toulouse in France.
The A220 family comprises two models, the A220-100 and A220-300, formerly Bombardier's C Series (CS100 and CS300). The aircraft are fully optimised for the 100- to 150-seat market.
Eric Schultz, Airbus' chief commercial officer, said that the A220 already is generating great interest among potential customers. He added this was no surprise as "our new colleagues have built something quite extraordinary. I don't think it will be long before we hear news from the market".
"I can assure you that work is well underway to make the A220 a commercial success, the market leader for aircraft between 100 and 150 seats," Schultz added. "We trust that this segment could total as many as 7,000 aircraft over the next 20 years – that's an exciting prospect."
Airbus took control of the C Series aircraft programme earlier this month after buying 50.01 per cent of the assets of the limited partnership that owns the C Series.
JetBlue will become the first customer for the Airbus A220 aircraft after signing a Memorandum of Understanding for 60 firm orders for the larger A220-300 model. In addition, it converted 25 of its current orders for Airbus A320neo aircraft into orders for the larger A321neo.