Bulletin board: aviation industry news round-up
This week: IATA calls for action as European delays double; easyJet ups profit forecast; United "well positioned" after first half and more.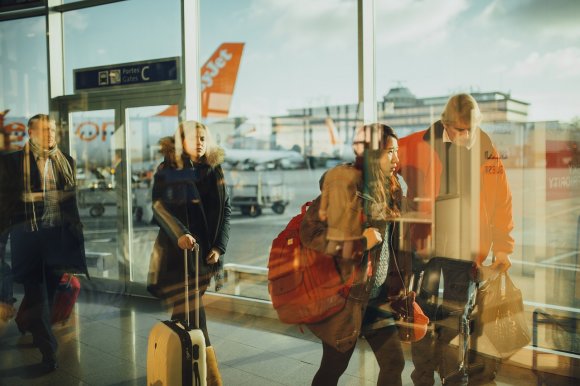 A round-up of the latest news from the aviation industry this week.
IATA calls for action as European delays double
The International Air Transport Association (IATA) called on the governments and air navigation service providers of Europe to address the region's airspace bottlenecks, as new data revealed that delays so far this year have more than doubled compared to 2017.
Data from Eurocontrol shows that in the first half of 2018, air traffic management delays more than doubled to 47,000 minutes per day, 133 percent more than in the same period last year.
IATA said most of these delays are caused by staffing and capacity shortages as well as other causes such as weather delays and disruptive events such as strikes.
The average delay for flights delayed by air traffic control limitations reached 20 minutes in July, with the longest delay reaching 337 minutes.
"We should be making progress, but delays are double those of last year," said Alexandre de Juniac, IATA's director general and CEO.
easyJet raises profit guidance despite "disruption"
easyJet has said that disruption across Europe is having an impact on revenue, cost and operational performance, with the main drivers being industrial action and air traffic restrictions.
However, the airline has increased its headline profit before tax guidance for the 2018 financial year to between £550m and £590m.
Total revenue in the third quarter to 30 June 2018 increased by 14 percent to £1.6bn as passenger numbers grew 9.3 percent to 24.4 million. Capacity rose by 8.9 percent to 26.2 million seats, although easyJet said this was lower than originally planned due to disruption.
"easyJet has delivered a strong performance during our third quarter driven by robust customer demand," said chief executive Johan Lundgren.
"We have also seen the continued growth in ancillary revenues, mainly due to more passengers choosing to buy allocated seating and hold bags."
Air France-KLM and China Eastern Airlines JV
Air France-KLM and China Eastern Airlines have announced their intention to extend their joint venture partnership as from 2019.
With this new agreement, the three SkyTeam alliance member airlines (Air France, KLM and China Eastern Airlines) will cooperate on two additional routes operated on a code-share basis - Paris-Wuhan and Paris-Kunming.
By extending the scope of the joint venture, Air France-KLM and China Eastern said it would also offer a wider choice of destinations, beyond the partners' bases, and will enable customers travelling between Europe and China to take advantage of even more travel options.
"We are very proud to affirm our joint ambition to further strengthen our ties in 2019 through a partnership encompassing an even wider scope," said Patrick Alexandre, executive vice president commercial, sales and alliances, Air France-KLM.
"We are building a strong, long-term relationship between our two groups to offer an ever greater choice to our customers travelling between Europe and China. By strengthening the joint venture, our Group pursues its partnership-driven Asia strategy."
United "well positioned" after first half
United Airlines has reported its second quarter 2018 financial results, with net income of $684m in the three months to 30 June. This was down from $821m a year ago.
The drop primarily relates to the impairment of assets following the Brazil–US open skies deal, ratified in May 2018.
The carrier said the approval impaired the entire value of its Brazil routes because the agreement removes all limitations or reciprocity requirements for flights between the US and Brazil.
However, United forecast adjusted profit for the full year at between $7.25 and $8.75 per share, up from its previous range of $7.00 to $8.50 per share.
"We delivered great financial results and strong operational performance in the second quarter despite the significant headwind of higher fuel prices," said Oscar Munoz, chief executive of United.
"These results are the strongest evidence yet that our strategic growth plan is working, and we are well positioned to carry our momentum into the second half of the year."
Delta and Korean in cargo partnership
Delta Air Lines Cargo and Korean Air Cargo are launching new cargo cooperation. This comes after the recent implementation of the transpacific joint venture partnership between the two airlines.
"The Delta and Korean Air JV means increased joint belly cargo capacity across the trans-Pacific as well as future co-location of key facilities, world-class reliability and the industry's best customer service," said Shawn Cole, Delta's vice president – cargo.
"The partnership also means a host of new destinations with commercial and logistics solutions across Asia and North America for these important markets."
Air New Zealand partners with JetBlue Technology Ventures
JetBlue Technology Ventures, the venture capital subsidiary of JetBlue Airways, is to work with Air New Zealand to support the development of new technology in the travel industry.
Together the two companies, along with future partners, hope to "build a network to better address changes coming to the travel industry as well as improve efficiencies within the existing infrastructure".
Christopher Luxon, chief executive of Air New Zealand, said: "As one of the most innovative airlines globally, Air New Zealand has a proud reputation for nimbly being able to seize opportunities and take these to market.
"We have been growing a terrific ecosystem of global partners as we seek to redefine the future of air travel. Partnering with JetBlue Technology Ventures is an important step in achieving that goal."
Finnair ups revenues
Finnair's revenue increased by 12.9 percent to €715m in the second quarter of 2018, compared with the same period a year ago.
"The second quarter of the year was a good period for Finnair overall. Our comparable operating result rose to €47.9m, a new record for the period, in spite of the increase in jet fuel price," said CEO Pekka Vauramo.
"Our capacity grew broadly in line with our expectations, nearly twice as fast as the market as a whole. Our Net Promoter Score, which measures customer satisfaction, increased to 50 (Q2 2017: 47). Everyone at Finnair deserves to be recognized for their fine performance in a period of rapid growth."