In case you missed it: key stories from Routes Africa 2018
Revisit the key news stories, quotes, audio and images from Routes Africa in Accra, Ghana.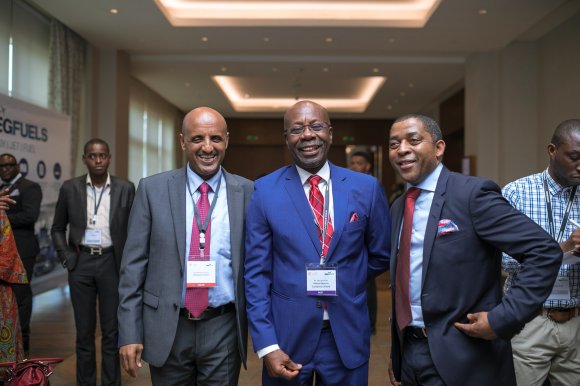 Revisit the key news stories, quotes, audio and images from Routes Africa 2018 in Accra, Ghana.
SAA CEO pledges to bring 'a culture of winning'
After less than a year in the role of chief executive, Vuyani Jarana outlined his turnaround plans for South African Airways, including bringing a "culture of winning" to the carrier. "Winning is very important in any organisation. If you are not consistently winning people will lose faith in you," he said. "You need to build a culture of winning. We want to play to win and succeed. But it's not going to come without sacrifices." Read more.
PLUS: You can hear Vuyani Jarana speaking live at Routes Africa on our latest podcast. Click here to listen or download.
African airlines 'should reclaim the continent's market'
African airlines are underperforming when it comes to handling international traffic to the continent. That's according to Ethiopian Airlines CEO Tewolde GebreMariam, who said African airlines used to carry as much as 60 percent of all inbound travellers up to 30 years ago. However, he added this figure has dropped to 20 percent as the continents airlines are constantly out muscled by their overseas rivals. Read more.
New aircraft to open up route opportunities for SunExpress
The delivery of new Boeing 737 MAXs could open up West Africa and other mid-haul destinations to SunExpress. The airline's head of network planning and scheduling Wilken Bellmann said that SunExpress is open orders for up to 40 aircraft in the next few years. Providing the airline's older aircraft are kept in operation, it would mean SunExpress would be operating up to 46 aircraft, while sister brand SunExpress Germany could have 16. Read more.
Routes Africa 2018 Marketing Awards winners revealed
Find out the winners of the Routes Africa 2018 Marketing Awards, with the overall winner through to the final at World Routes in Guangzhou. Read more.
Collaboration the secret of success for Cape Town Air Access
Cape Town Air Access believes working closely with aviation and tourism partners is the critical success factor in attracting airlines. Dave King, project manager for Cape Town Air Access, echoed a repeated sentiment throughout the event that African stakeholders must work together more effectively if they are to address the connectivity challenges. Read more.
Kuuchi urges African airline cooperation
IATA's vice president for Africa has called on the continent's airlines to work together in order to better compete with carriers around the world. "If we organise ourselves as African and our carriers are allowed to work together... we can then compete with airlines coming into Africa," he said. "Let us focus on doing the interior of Africa and doing it well and that will give us the basis to be able to compete." Read more.
Aircraft size 'critical to African route success'
African airlines need to start thinking more about the size of the aircraft they are using if they are to drive up profits. Libyan Wings' former CEO Edgardo Badiali said African carriers often deploy aircraft that are too large for the route they are operating. He added: "One of the major issues and a possible solution is the use of aircraft. It is very difficult to drive the cost of the seat down but if you have the right aircraft and the right size you can do a lot more as you still get good load factors." Read more.
Strike now to reap SAATM benefits, airlines told
African airlines must move quickly if they are to benefit from the recent launch of the Single African Aviation Transport Market (SAATM) which launched in January. Ghana Airport Company managing director John Attafuah welcomed the deal which has seen 26 African countries sign up in a bid to open up the continent's aviation market. Read more.
Routes Africa 2018 - images from Accra
View the some of the best images from the 11th Routes Africa.