Bulletin board: aviation industry news round-up
This week: LEVEL hires first CEO; JetBlue to cut Q4 capacity; BA to resume Pittsburgh; Alitalia excluded from transatlantic JV; and air traffic strikes hit Wizz's profits.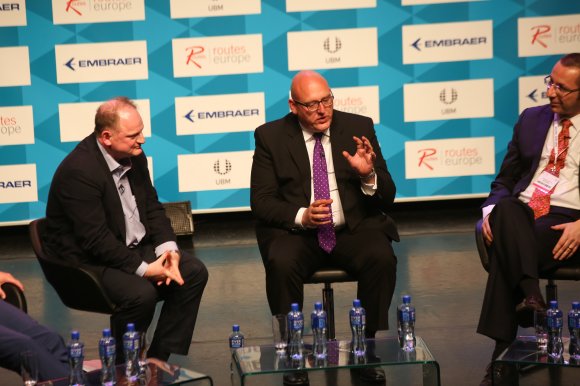 A round-up of the latest news from the aviation industry this week.
LEVEL hires first CEO
International Airlines Group (IAG) has appointed Vincent Hodder as the first chief executive of LEVEL, its low-cost airline brand.
Hodder has more than 25 years' experience working with airlines around the world and is currently chief strategy officer at UK regional airline Flybe.
He said: "LEVEL is a start-up that is already performing really well. It's more than just a start-up airline brand, it's a new concept that uses technology to provide customers with control over the way they travel and has the lowest possible costs."
LEVEL took to the skies in June 2017 and operates flights from Barcelona to Boston, Buenos Aires, Los Angeles and San Francisco.
Earlier this month it launched flights from Paris Orly to Montreal and Guadeloupe with services to New York (Newark) and Martinique launching in September. In recent weeks the airline has also entered the short-haul market, operating flights from Vienna.
Flybe, meanwhile, has named Sir Timothy Anderson as chief operating officer, replacing Luke Farajallah. Sir Timothy has been a non-executive director on the company's board since May 2014.
JetBlue to cut Q4 capacity
JetBlue will cut capacity by two points in the fourth quarter of 2018 as the US low-cost carrier seeks to keep a lid on rising costs.
The airline's executive vice-president of commercial and planning, Marty St. George, said the cuts would run through its schedules "over the upcoming days".
"We anticipate that those reductions will be aimed at off-peak flying throughout the network," he told analysts on a second quarter earnings call.
In addition, he added that the carrier has mandate to close poorly performing routes, adjust frequencies and off-peak flying, and look for areas where we can shift low margin flying to better opportunities.
However, for the full year 2018, JetBlue expects capacity to increase between 6.5 percent and 7.5 percent. It previously forecasted growth of between 6.5 percent and 8.5 percent.
BA to resume Pittsburgh
British Airways will resume non-stop service from Pittsburgh to London Heathrow next year, almost 20 years after the airline departed the region.
Flights will start on 2 April 2019 and will operate four days a week – Tuesdays, Wednesdays, Fridays and Sundays - on Boeing 787-8 Dreamliner. As part of the deal, the airline will receive a $3m incentive over two years.
British Airways flew daily between Heathrow and Pittsburgh via Washington from May 13, 1986, until June 1993, when it moved its service to Gatwick. The airline operated that route with a daily service until 31 October 1999.
Pittsburgh International Airport's chief executive Christina Cassotis said the announcement was the product of 3.5 years of work.
Alitalia excluded from transatlantic JV
Alitalia has been cut from the expanded transatlantic joint venture between Air France-KLM, Delta Air Lines and Virgin Atlantic.
An amended order filed with the US Department of Transportation this month said Italy's flag carrier has not been included because of the ongoing uncertainty over its future. Alitalia was placed into administration in May 2017.
The amended order said: "Although the parties hope to implement metal-neutral cooperation with Alitalia in the future, Alitalia is currently undergoing restructuring through the Italian bankruptcy process, and its future ownership structure is uncertain.
"The timing of any future agreement with Alitalia is currently uncertain."
Air traffic strikes hit Wizz's profits
Wizz Air's chief executive József Váradi has hailed the low-cost carrier's performance in the three months to 30 June 2018, despite profit dropping 14 percent to €50m. However, revenues increased by almost 18 percent to €553.4m.
Váradi said it had been a "very solid performance" given the absence of high yielding Easter traffic - which fell into the end of the last financial year - and "significant challenges" caused by European air traffic control issues.
He added: "Looking beyond the quarter, we are making exciting progress in continuing to build WIZZ into Europe's lowest cost airline. Our fleet grew past the milestone of 100 aircraft in Q1 and we carried more than 30 million passengers over the last 12 months."