Air France-KLM eyes South American joint venture
SkyTeam partners Air France-KLM and Air Europa are hoping that a planned joint venture agreement on flights between Europe and Central and South America will help to unlock new routes and direct flights between the two continents.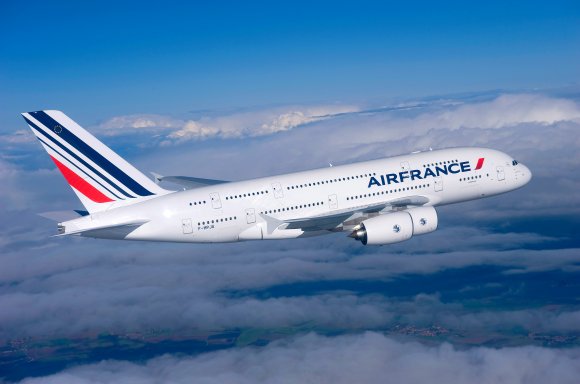 Air France-KLM and Air Europa are set to deepen their ties by forging a joint venture agreement on flights between Europe and Central and South America.
The carriers said they were in the process of carrying out an in-depth legal analysis of the terms of this possible deal "in order to ensure compliance with all applicable laws and regulations".
"The deepening of our cooperation with Air Europa through a joint venture will provide a strong foundation for us to work even closer together in order to enhance our offer on routes between Europe and Central/South America," said Frédéric Gagey, interim chief executive and chief financial officer of Air France-KLM.
"We are striving to even increase and improve our current leading role on these markets and offer our joint customers more benefits together with our long term partner Air Europa."
Air France and Air Europa started their codeshare cooperation in 2003 and currently cover 21 routes within Europe. KLM and Air Europa have been collaborating since 2002 and now operate 19 codeshare routes within Europe.
Javier Hidalgo, chief executive of Air Europa owner Globalia, said the proposed joint venture would offer "great benefits for both airlines".
According to figures from OAG Mapper, Air France currently operates 18 routes between Europe and Central/South America; KLM operates 14 routes, all from Amsterdam; and Air Europa operates 17, all from Madrid.
Air France, KLM and Air Europa's Europe-Central/South America networks (summer 2018):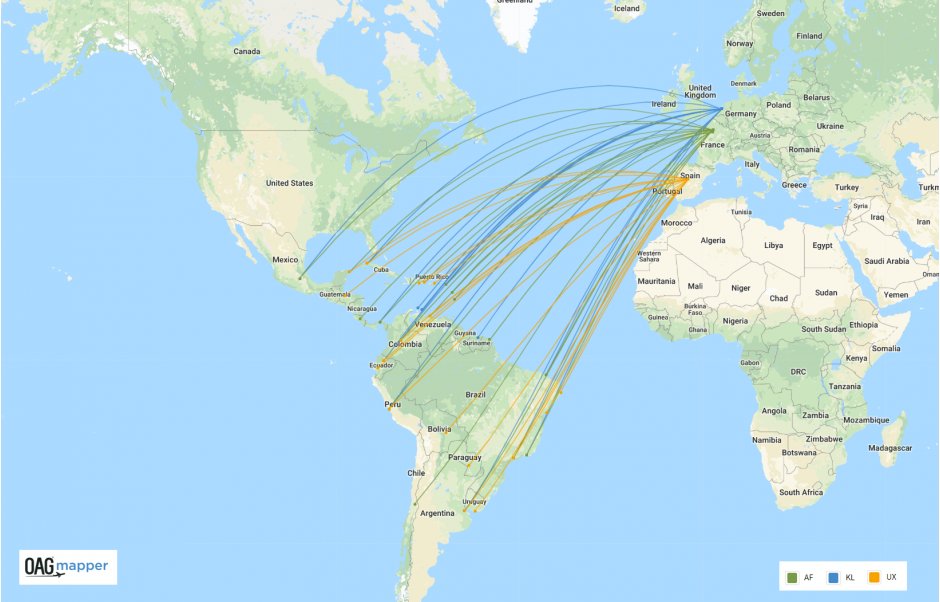 Deepening alliances
The planned joint venture with Air Europa comes just weeks after Air France-KLM and China Eastern Airlines announced their intention to extend their joint venture partnership as from 2019.
Under the new agreement, the three SkyTeam members will cooperate on two additional routes operated on a codeshare basis – Paris-Wuhan and Paris-Kunming. China Eastern has held an 8.8 percent stake in Air France-KLM since October 2017.
In July, Air France, KLM, China Southern Airlines and Xiamen Airlines merged their existing joint venture agreements on Europe - China routes.
The aim is to optimise transfer and connection times on routes from Paris and Amsterdam to Beijing, Chengdu, Guangzhou, Hangzhou and Xiamen.
Air France-KLM is also in the process of finalising an expanded a transatlantic joint venture with Delta Air Lines and Virgin Atlantic. The carriers signed "definitive agreements" in May 2018 to pave the way for the deal.
The airlines said the partnership would offer "the most comprehensive route network, convenient flight schedules, competitive fares and reciprocal frequent flyer benefits".
In addition, Air France-KLM and Virgin Atlantic are in discussions for a strategic cooperation on other parts of the world to "leverage a worldwide combined offer" for customers.
Impact of strike action
Details of the proposed Air Europa joint venture emerged as Air France-KLM posted its financial results for the second quarter of 2018, beating profit expectations despite recent industrial action.
Operating profit was €345m in the three months to 30 June 2018, €241m lower than the same period last year, including a strike impact of about €260m.
The airlines carried 26 million passengers during the quarter, up 0.8 percent year-on year, while there was a 1.7 percent unit revenue gain at constant exchange rates.
The Air France pilot strike had a -2.5 percent negative impact on second quarter 2018 capacity, but the group expects full-year capacity growth to remain unchanged at between 2.5-3.5 percent.
However, it added: "The global context remains uncertain given the current geopolitical environment, labour wage inflation pressure and rising fuel price trends."
KLM spies opportunities
Speaking in the latest issue of Routes News, KLM president and chief executive Pieter Elbers said that KLM and Air France were still working effectively together despite the strike action at Air France.
He also explained that KLM's fleet plans - the carrier is replacing its remaining fleet of 12 Boeing 747-400 aircraft with 21 787s - would be instrumental in driving its long-haul expansion.
"They are really providing us with a great opportunity in some of the second cities in China outside the big three airports at Beijing, Shanghai and Guangzhou," he said. "They also allow us to step up our frequencies in places like Sao Paulo."
On the long-haul front, he is also happy to work with his 20 SkyTeam partners to cover the airline's white spots – specifically Delta Air Lines in the US, where KLM offers 14 destinations, and China Eastern Airlines, China Southern Airlines and Xiamen in China.
When it comes to short-haul strategy, Elbers says the decision that saw KLM Cityhopper replace the last of its Fokker aircraft with Embraer 175s brings the total fleet number to 42, which has helped to optimise European operations thanks to their fuel efficiency and the ease of maintenance generated by having fewer aircraft types.
He added: "The long-haul network is our backbone, while in the European landscape we use the Cityhopper network – and Cityhopper is very much an integral part of KLM. [The Embraers] are really helping us to open up small cities around Europe, and that is the core of our network."