Flair adds US routes as ULCC competition intensifies
Canada's Flair Airlines is adding the first US destinations to its network this winter as competition between budget carriers on transborder routes begins to heat up.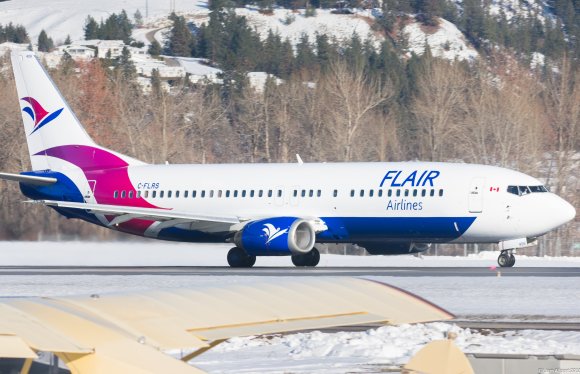 Ultra-low-cost carrier (ULCC) Flair Airlines will add 11 new non-stop transborder US flights for the upcoming winter season.
The airline is introducing flights to six US destinations, extending its network to Florida's Orlando International Airport, St Pete-Clearwater and Miami as well as to Palm Springs, Las Vegas and Phoenix-Mesa Airport.
"The majority of our new services concentrate on Edmonton and Winnipeg," said David Tait, Flair's executive chairman.
"Having brought low fare service to ten Canadian cities this summer, we are now taking the show on the road and heading south to some of the most popular winter getaway spots. Escaping the great Canadian winter will cost a lot less this year."
New non-stop routes out of Flair's Edmonton hub are to Las Vegas, Phoenix/Mesa, Palm Springs, Orlando and Miami. From Winnipeg it will fly to Las Vegas, Phoenix/Mesa, Orlando, St.Pete-Clearwater and Miami, while from Toronto Pearson the airline to will fly to Miami.
The majority of services will begin on 15 December 2018, but Edmonton to Las Vegas will start on 9 November.
Flair's planned Canada-US routes: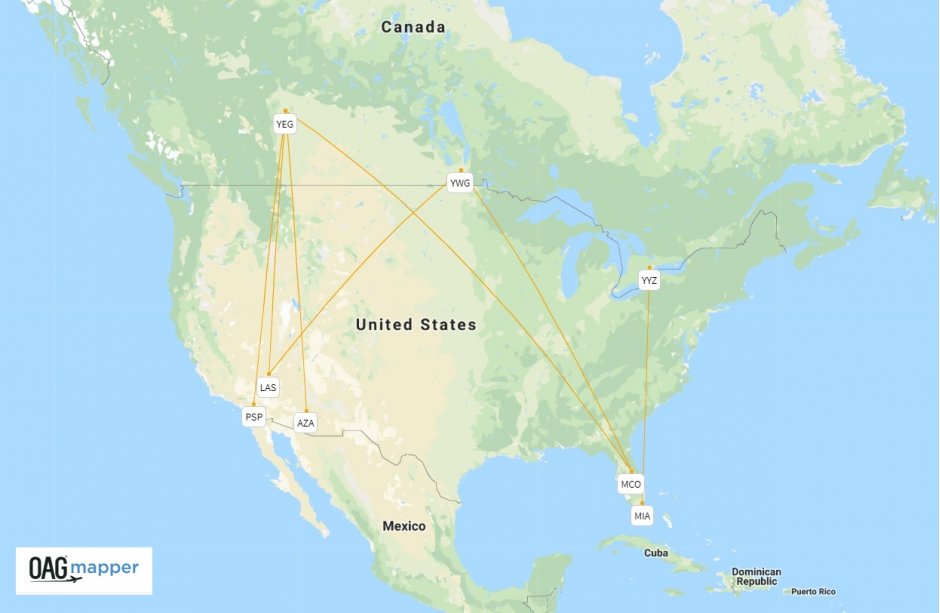 For the winter schedule, Flair has also announced increased domestic service with new routes between Toronto to Winnipeg (daily) and Calgary to Abbotsford.
The service from Toronto Pearson is being launched as Flair prepares to switch from Hamilton following Swoop's arrival. The airline will conclude service from Hamilton on 27 October 2018.
David Tait, Flair's executive chairman, said: "The decision to move all of our Southern Ontario operations to Toronto was a difficult one for us. We have greatly enjoyed partnering with Hamilton airport and anticipate a return."
Flair will face direct competition on seven of the 11 new routes to the US, according to data provided by OAG Schedules Analyser.
WestJet is the sole competitor on three (YEG-MCO, YEG-PSP, YWG-LAS), while it also operates YWG-MCO and YYZ-MIA alongside Sunwing on the former and American Airlines on the latter.
Swoop, WestJet's ultra-low-cost subsidiary, announced earlier this month plans to fly from Edmonton to Phoenix/Mesa and Las Vegas from October. Air Canada also operates YEG-LAS.
Speaking about Swoop's first US routes - which also include flights from Abbotsford to Las Vegas and Hamilton to Las Vegas, Phoenix/Mesa, Orlando, Tampa Bay and Fort Lauderdale - the airline's chief executive Steven Greenway said the Canada-US market was ready for more budget travel options.
"Swoop's success in the Canadian ULCC space combined with the evident success of ULCCs in the US affirms that North American travelers are ready for an airline to open up the border to ultra-low-cost air travel," he said.
Canada-US two-way low-cost capacity by month (2014-18):
Main image credit: Liam Allport