Copenhagen Airports spills the secrets to its stand success
Winner of the Best Stand Award at World Routes 2017, Copenhagen Airports joined forces with Joe and The Juice, a well-known chain of juice bars and coffee shops, and it proved to be a winning formula.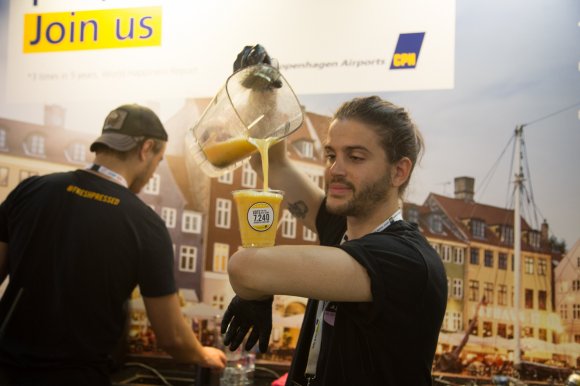 Tina Bendix, brand manager at Copenhagen Airports, explains why its stand was voted the favourite - and what winning the award meant to the group.
Where did you take inspiration from in the design of your stand?
When it came to inspiration for the stand, we started with our own airport. We are famous for our stylish, Scandinavian design, the use of Danish furniture in the terminals and at the gates, as well as our wood and marble floors. We wanted to bring that same style to our stand and also make sure that the stand had an open and inviting lounge feel to it. I honestly believe that the design of our stand stands out from the others. It is very noticeable and it captures the essence of what we are as a route development team.
What do you think was the key thing about your stand that lead to delegates voting for you as their favourite?
It is very evident that delegates love Joe & the Juice, people stop by our stand multiple times during the conference to get coffee and juice and then stay to chat with us. The Danes are known to be the happiest in the world, and we feel that by inviting delegates to join us for a coffee and pastry, we are helping to spread that happiness further. Many ask us to come back with Joe and the Juice year after year, so I suppose that's a good argument to vote for us!
Aside from winning the award, what benefits did you see from designing your stand in the way that you did?
As we invest quite a lot of money in a networking stand it is important for us to have high footfall during the event. We have tried out different things throughout the years, and bringing a well-known Danish juice and coffee brand in our stand has worked really well for us. News of our stand spread through delegates recommending our stand to each other, and winning the award helped our name to get out there even more. With delegates visiting us several times a day over the course of the event, we really got to know them and this helped us to build relationships further at the networking events.
Cast your vote for the 2018 Best Stand Award
Voting for the World Routes 2018 Best Stand Award will be available through the Routes app during the event. If you are exhibiting at World Routes 2018, make sure you have entered your stand information and completed your Visit Me form to be in with a chance of winning the award.