Ryanair to increase London Luton presence
Ryanair is to base two more aircraft at London Luton Airport, the home hub of European low-cost rival easyJet.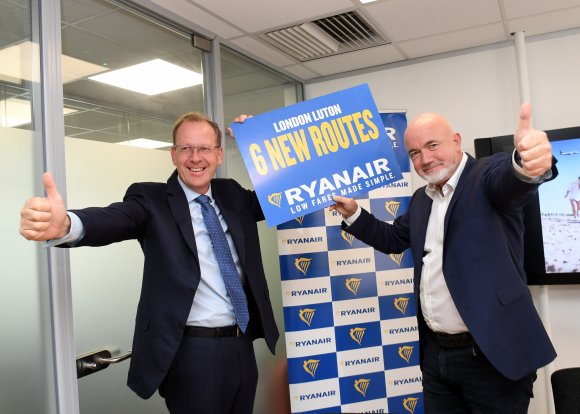 Ryanair is to base two additional aircraft at London Luton Airport for its winter 2018 schedule, taking its total to six.
The two new Boeing 737-800NGs will allow the carrier to launch six new routes to Alicante, Athens, Barcelona, Bologna, Cork and Malaga. According to OAG Schedules Analyser, Ryanair will now offer 21 routes from the airport this winter.
"We will deliver six exciting new routes to Spain, Greece, Italy and Ireland and have added more flights to Vilnius, as we increase our schedule to 107 weekly flights, carrying 2.2 million annual customers to/from London Luton," said Ryanair's chief commercial officer David O'Brien
Luton Airport chief executive Nick Barton added: "Ryanair has been a big part of our success since it first started flying from LLA in 1986, and the decision to expand its presence here is a testament to our transformation into a world class international airport.
"We are currently carrying out the single biggest investment in our 80-year history to meet continued demand from passengers and give them the best travel experience possible."
In summer 2018, Ryanair is the third biggest airline at London Luton by departure seats, with a 9.8 percent capacity share.
Top five airlines at London Luton by capacity share of departure seats (summer 2018):
Earlier this week, Ryanair and pilots' union Fórsa reached an agreement which could bring an end to recent strikes.
In a statement the Fórsa said: "Following a 22-hour negotiating session, which began on Wednesday morning and concluded Thursday morning, agreement has been reached between Forsa and Ryanair in the pilots' dispute.
"The proposed agreement will now go to ballot, with a recommendation for acceptance from Forsa and its Ryanair pilot representatives."