California Pacific Airlines sets date for take-off
US start-up California Pacific Airlines, the brainchild of 97-year-old entrepreneur Ted Vallas, is set to take to the skies during the fourth quarter after several years of false dawns.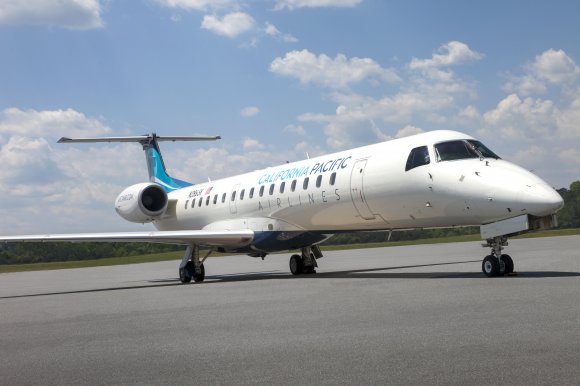 California Pacific Airlines (CP Air) has revealed the details of its inaugural west coast service, with flights scheduled to start from its base at the McClellan-Palomar Airport in Carlsbad on 1 November 2018.
The start-up carrier will initially serve Reno four times per week and San Jose, CA twice daily (one on weekends), before adding a three-weekly service to Las Vegas from 15 November. It expects to announce additional routes in the near future.
CP Air's inaugural flights come more than nine years after founder Ted Vallas proposed starting an airline out of McClellan-Palomar, based on the model of Pacific Southwest Airlines. However, his plans were beset with delays, including several failed attempts at securing an Air Carrier Certificate from the Federal Aviation Administration.
But in November 2017 the company completed the purchase of small regional airline ADI Aerodynamics, trading as SkyValue Airways. This provided CP Air with five 50-seat Embraer ERJ-145 aircraft and meant it became a fully FAA-certified scheduled air carrier.
"Today's announcement marks the culmination of a multi-year effort that will bring significant convenience in air travel between San Diego's North County and the top western-region destinations our community wants to fly to non-stop," said Vallas, the chairman of CP Air.
"California Pacific Airlines will bring the north county a new-found convenience in air travel options. Our initial set of cities will address the needs of both business and leisure travellers from nearby McClellan-Palomar Airport.
"Passengers can spend less time fretting the drive to and from the airport, and spend more time enjoying their destination."
The initial flight schedule between Carlsbad and San Jose will consist of two round trips each week day with a single round trip each Saturday and Sunday.
Carlsbad and Reno flights will consist of a single round trip each Monday, Wednesday, Friday and Sunday, while the Carlsbad - Las Vegas service will operate on Sunday, Tuesday and Thursday.
"We are extremely pleased to be one of three launch airports for California Pacific Airlines and the convenient, non-stop service it will offer to travellers between San Diego North County and Silicon Valley," said Mineta San Jose International Airport's director of aviation John Aitken.
"Our community will warmly welcome scheduled flights to the Carlsbad, California area, an in-demand destination for both tech and tourism. We appreciate California Pacific's investment in offering convenience for our local business and leisure travellers."
According to OAG Schedules Analyser, the three routes being launched by CP Air are unserved during the winter 2018/19 season.