How Somon Air is reaching new peaks
Somon Air has been challenging Tajikistan's state-owned flag carrier since 2008 and is marking up sizeable successes.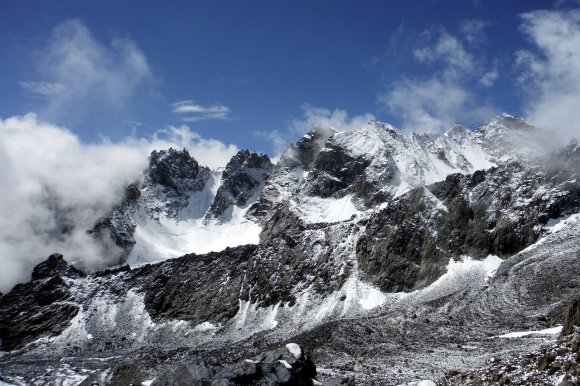 Tajikistan's Somon Air launched operations in 2008 with the aim of breaking the monopoly enjoyed by state-owned flag-carrier Tajik Air. CEO Thomas Hallam makes no bones about the challenges of running a business in Tajikistan – an impoverished central Asian republic where corruption can feature on the corporate landscape.
But by learning from the success of Air Astana, Kazakhstan's flag-carrier, Somon Air is rapidly overcoming these obstacles. An obsessive focus on safety, transparency and international standards has secured the company both IATA membership and Third Country Operator authorisation in Europe – two recognised benchmarks for operational excellence.
Having also returned to profit last year, the Tajik airline is now embarking on an era of growth that will see the latest generation of Embraer and Boeing aircraft join its fleet while new markets are explored across Eurasia.
"The vision of the owner was always to develop an alternative, a private airline that could stay outside the influence of others," Hallam says.
"They knew something needed to be done in order to really guarantee and expand the accessibility of this country to the world… Tajik Air doesn't have the capability to fulfil all the needs of the country in terms of aviation."
Somon Air currently flies to ten points in Russia, Almaty in Kazakhstan, Urumqi in China, Frankfurt and Istanbul in Europe, and Dubai in the Middle East. Its six Boeing 737s are based at three airports in Tajikistan: capital city Dushanbe, Kulob in the south, and Khujand in the north.
Strong ties to Russia
The strong focus on Russia is a consequence of Tajikistan's developmental status. With limited natural resources and scant foreign investment, the former Soviet republic draws more than one-third of its GDP from overseas remittances. Most of the money is sent back from Russia, where about one million of Tajikistan's nine million citizens find work.
While migrant traffic has provided a foundation for Somon Air to launch and grow its operation, Hallam is keen for this segment to "reduce itself over time" in favour of VFR passengers and tourists.
Competition with Russian carriers is the main concern – particularly as a traffic-rights dispute between Moscow and Dushanbe has disrupted the past two peak seasons. Last year's four-week grounding of flights was especially "brutal", Hallam says, costing the company about $4m.
"This year it happened again," he adds. "The flight routes just for Somon Air were another 50 minutes long with lower altitudes over Russian territory, so the fuel burn and the cost of the operation and the connectivity were all disrupted."
Although the 2018 dispute was resolved in "a day", the lifting of the suspension came at a price: more liberal access to the Tajik market for Russia's Ural Airlines, UTair Aviation and S7 Airlines.
Their much larger fleets enjoy economies of scale that Somon Air and Tajik Air cannot match, prompting Hallam to ask himself: "How dependent do we want to be on that market?" Shifting the focus to central and south Asia is one remedy, he says, particularly given the demographic make-up of neighbouring Uzbekistan and Afghanistan.
"In Uzbekistan, there are 15 million Tajik people split between [the cities of] Tashkent, Samarkand and Bukhara. Those are clear destinations that we are looking at and have negotiated rights for. We've got Afghanistan, which has more than ten million Tajiks… There's Pakistan as well – Islamabad or Karachi – and we know that the Indian market could be a good one for us."
At present, air connectivity between the central Asian republics is remarkably limited. Tajikistan lacks direct links with the capitals of Kazakhstan and Turkmenistan, for example, while Kyrgyzstan's capital is served just twice per week and Uzbekistan's once.
Nonetheless, Hallam believes the political landscape is improving, citing this year's reopening of the Tajik-Uzbek border after more than two decades of poor relations.
"There's much less [hostility] than there has been in the past," he says. "It's true that the capitals of central Asia are not well connected. But I think we can take a step there. We can be proactive and be a leader in finding ways to have better access for better diplomacy."
Somon Air's first Embraer E190-E2 – expected in the fourth quarter of 2019 – should be an ideal vehicle for testing the water in these regional markets. An initial commitment for two units plus two options is being negotiated with a leasing company, Hallam confirms, while management is also considering buying up to four units direct from the manufacturer. The 106-seat planes will replace the airline's two 737 Classics.
Wide-body flights on the way
Elsewhere, plans for a Boeing 787 Dreamliner have been delayed, but the company still wants to launch wide-body flights next year with a 767-300ER. Commercial director Abdulkosim Valiev says the twin-aisle aircraft will push down seat costs on trunk routes such as Dushanbe-Moscow while also opening the door to high-volume charter flights to Turkey, Egypt and south-east Asia.
Transitioning to the 737 MAX, Boeing's latest generation of narrow-bodies, is another priority for management – but not before the Embraers have arrived. MAXs would be ideal for China and the Far East, notes Suhrob Juraev, Somon Air's deputy CEO, with studies focusing on Guangzhou, Beijing, Shanghai, Hangzhou, Hong Kong, Singapore, Bangkok and Seoul.
They could also be used for Europe, although with the Frankfurt route still losing money, Hallam is in no rush on that front. He sees boosting cooperation with AtlasGlobal as a more judicious strategy.
Somon Air is already wet-leasing one of its 737-800s to the Turkish carrier and will soon place its code on AtlasGlobal's four Western European routes – Amsterdam Airport Schiphol, Dusseldorf Airport, Paris Charles de Galle Airport and London Stansted Airport. Paris and London are considered the best candidates for eventual progression to non-stop flights from Dushanbe.
Tajikistan's aviation market is not large by global standards and the country faces huge challenges, but whereas many start-up airlines aim unrealistically high, Somon Air recognises its limits and is focusing on sensible measures that will lay the foundation for a better future: compliance with international standards, cost efficiency, diplomatic advocacy, and slow, steady growth.
Despite calling Dushanbe the "perfect place" for a sixth-freedom gateway, for example, Hallam deliberately avoids using the term "hub and spoke" during our interview. "You can have connectivity without a hub," he insists, noting the potential for regional traffic to feed long-haul services.
"At the moment, if you want to go from Kabul to Frankfurt, you're probably going to go via Dubai. But if you come here and connect to our Frankfurt flight, you'll save four and a half hours."
In the same vein, tourism is undoubtedly on Somon Air's radar – but efforts to nurture demand will not exceed the pace of government investment in the sector. "The President has declared that 2018 is the year of tourism. Well, that means we better start with the tourism infrastructure," Hallam says candidly.
"It's not at the standard where people are going to flock to see the beautiful majestic world of Tajikistan. "Long term, we back tourism strongly because we see it has a big future for us. Short term, we wouldn't launch destinations just to open up the tourism."