Why the Delta and WestJet JV could change the face of North American aviation
A game-changing deal between the two airlines may yet prompt Air Canada and United Airlines to form their own joint venture.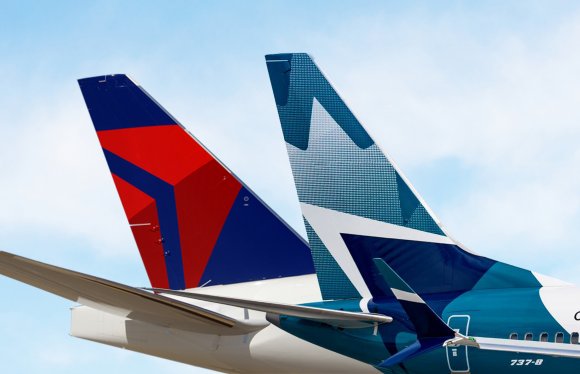 The joint venture (JV) announced between Delta Air Lines and WestJet could force United Airlines and Air Canada into a similar deal while driving the latter's international route development.
AV8 Advisory SVP Buddy Anslinger says the announcement in July that the pair would form the agreement – government approval permitting – is good news for both airlines and their two domestic markets.
He adds that it may yet prompt Air Canada and United Airlines to form their own JV, an idea that was most recently proposed last summer but about which little has happened since.
Closer collaboration
Air Canada CEO Calin Rovinescu had called United an "important partner" at last summer's IATA AGM in Cancun and had admitted there were opportunities to work more closely together on the trans-border market.
He said the need to do so had grown since 2012, when the two airlines originally announced the idea, only to have Canada's Competition Bureau block them from coordinating on 14 trans-border markets owing to potential for reduced competition. Rovinescu argued that the likes of WestJet's growth in the market has grown the competition, thus giving the authorities an opportunity for a rethink.
Anslinger agrees the new Delta WestJet arrangement could add fresh impetus to the rival JV, adding: "It may push Air Canada to form their own JV with United. They announced it some time ago but they have never really formalised it.
"For Delta, all these JVs have been very successful and have stimulated traffic between other countries."
JVs in the trans-border market
If the deal is granted, it would see four of the five biggest airlines covering the US-Canadian trans-border market working together with two JVs.
JLS Consulting founder John Strickland also believes the Delta WestJet deal could focus their rivals' thinking. He adds: "I would have thought it is something United and Air Canada would both wish to do. They're both members of the Star Alliance, so they are used to coordinating, although this could deepen under the existing transatlantic JV."
Strickland also argues that the proposed JV could cause Air Canada to hasten its global network expansion.
He says: "The key thing is what it will do in terms of Canadian access internationally and globally. Air Canada has been criticised in the past for not doing enough, although it is working much more to develop hubs with connectivity out of Toronto and Vancouver. Delta have got a whole set of hubs, so it will act as a competitive spur for Air Canada."
This certainly seems to be what is driving Delta CEO Ed Bastian's thinking with regard to the JV. At the announcement in July, he said: "Delta's future is global and together with WestJet, we can augment the two airlines' capabilities and bring together our strengths in this important trans-border market.
"Combined, we will be able to offer more destinations to customers with an integrated network, superior airline products, improved airport connections and significantly enhanced frequent-flyer benefits. The JV will provide an unmatched passenger experience for customers travelling between the US and Canada."
WestJet president and CEO Ed Sims said the JV will benefit consumers in the trans-border market, as it will provide service to more than 30 cities covering 95 percent of US-Canada demand. He added: "Working together with Delta, the premier US carrier, we are looking forward to providing enhanced offerings and more choice for guests. The joint venture will allow us to maximise our existing partnership with Delta to benefit customers by bringing greater competition to the trans-border market."
The agreement will deepen the existing codeshare partnership between the carriers and follows the signing of a memorandum of understanding in December 2017, outlining the intention to form a JV.
Enhanced cooperation
As well as growing the trans-border market, the two airlines are promising to implement all aspects of the enhanced cooperation, including expanded codesharing, having a more aligned frequent-flyer programme and reciprocal elite benefits, as well as sharing co-location at key hubs to improve passenger and baggage transit.
It's not the first JV Delta has entered into, either. The airline can boast deals with airlines in Europe, Latin America, Asia and Australia, allowing it access to similar benefits it expects from WestJet around the world – providing the US and Canadian authorities are convinced it is a good thing too.