Norwegian sets date for first domestic services in Argentina
Scandinavian low-cost carrier Norwegian has opened reservations for its first domestic flights in Argentina, with services set to launch in mid-October.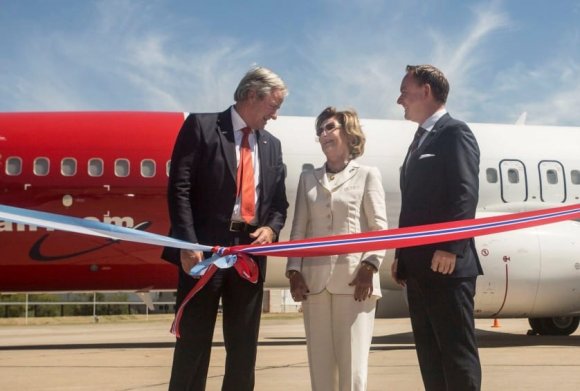 Norwegian is pressing ahead with its plans to launch domestic flights in Argentina, despite the country's ongoing economic struggles.
The low-cost carrier will launch operations on 16 October 2018, flying from Buenos Aires Aeroparque to Cordoba and Mendoza using Boeing 737-800 aircraft. Other destinations include Iguazu, Bariloche, Neuquen and Salta.
"This is a great milestone for us in Norwegian. Our goal is to give everyone the opportunity to fly and these routes make it possible for Argentinians as well as Europeans and others to travel in Argentina in Argentina at a reasonable price," said Bjørn Kjos, chief executive of Norwegian.
"The routes will contribute to increased tourism, more jobs and value creation in Argentina, a country where the flight offer has traditionally been limited.
"Argentina has enormous potential and these routes are just the beginning of our plans in South America. Now we are looking forward to welcoming both Argentineans to other travellers on board our new, comfortable, more environmentally friendly aircraft."
Norwegian's wholly owned subsidiary, Norwegian Air Argentina, obtained an operating license from the Argentinian authorities in January.
Earlier this year, the airline also opened its first route to the South American country with flights to Buenos Aires from London Gatwick.
As reported by Airlineroute, Norwegian Air Argentina's planned operation is as follows:
Buenos Aires Aeroparque – Bariloche eff 12DEC18 1 daily
Buenos Aires Aeroparque – Cordoba eff 16OCT18 2 daily (5 daily from 12DEC18)
Buenos Aires Aeroparque – Iguazu eff 12NOV18 1 daily (2 daily from 07JAN19)
Buenos Aires Aeroparque – Mendoza eff 16OCT18 1 daily (3 daily from 19NOV18)
Buenos Aires Aeroparque – Neuquen eff 19NOV18 1 daily
Buenos Aires Aeroparque – Salta eff 07JAN19 1 daily