Don't miss out on this year's World Routes exhibition activities!
Our exhibitors will host a number of unique and exciting activities on their stands including; food, drinks, entertainment, giveaways, prizes and much more. Make the most of your World Routes experience by visiting as many stands as possible.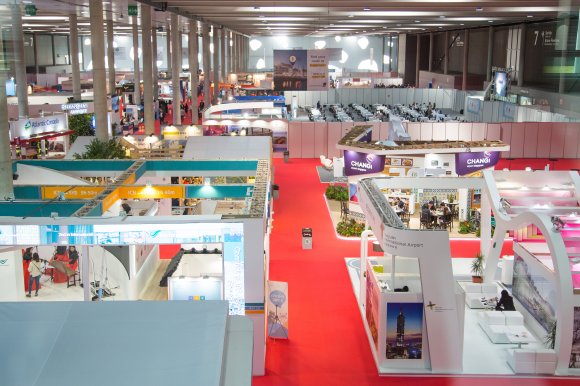 Enjoy some delicious delicacies
Avinor Oslo Airport - The Norwegian kitchen is back! Enjoy Norwegian comfort food for breakfast, served with traditional brown cheese or strawberry jam, freshly made in the Avinor Explorer's Kitchen! At lunch, get your taste buds working and have a taste of Nordic cuisine from their full Norwegian menu.
Birmingham Airport - Once again Birmingham Airport will be hosting a hot curry buffet at 1pm on Sunday, 16 September (meat and vegetarian options will be available). The team will also be serving drinks at their bar from 12pm each day.
Brussels Airport - Join the Brussels Airport team for some Belgian beer, every day from 2pm. Take some time to enjoy your beer in a relaxed environment whist you network with industry peers and colleagues.
Chișinău International Airport - Enjoy delicious Moldovan wines and chocolates at the Chisinau International Airport stand. A tasty treat to enjoy during the exhibition and to take home with you.
Copenhagen Airport - Joe & the Juice is back! The team will be serving freshly made juices throughout the three conference days. Also enjoy a piece of Danish pastry at the stand on Monday and Tuesday morning. First come, first serve!
FlightGlobal - Visit the FlightGlobal stand to grab a cold brew coffee and mooncake.
Ghana Airports Company Limited - Visit the Ghana Airports stand for delicious, unique and tasty Ghanaian chocolates. Enjoy this treat as you network with key stakeholders from the route development industry.
Hannover Airport - Join the Hannover team at their well-known Jägermeister Bar from 3pm every day. Try delicious Jägermeister cocktails, Beck's beer and other refreshments in a laid-back atmosphere - perfect for networking and cultivating contacts.
Malaysia Airports - Treat your taste buds to Malaysia's signature dish - Satay, a flame-grilled meat skewer dipped in rich and aromatic peanut sauce. This will be served on a first-come, first-serve basis, so don't forget to stop by!
Prague Airport - Treat yourself to some Czech specialities and draught beer on the Prague Airport stand. Sit back, relax and enjoy yourself at this year's event.
Sheremetyevo International Airport – Enjoy the warm atmosphere of Mother Russia, with Russian cuisine and drinks from the Sheremetyevo International Airport stand - a fantastic opportunity to try a host of new food and drinks.
Swedavia - Immerse yourself in Swedish hospitality, enjoy a coffee and a break at the Swedavia stand.
Taoyuan International Airport - Enjoy a refreshing Taiwanese fruit beer, tea cocktail, and world-famous Din Tai Fung's Xiaolungbao (dumpling) at Taoyuan International Airport Happy Hour. Join them for a drink between 2.40-3.10pm, Sunday 16 & 3-3:45pm, Monday 17 September.
Vienna Airport - Enjoy a relaxed atmosphere at Vienna Airport's Viennese coffee house! The team are offering some typical Viennese delights: original DEMEL chocolate cake and excellent Austrian snacks & wines.
VisitBritain - Join VisitBritain and stand partners Bristol Airport, Cardiff Airport, Heathrow Airport, George Best Belfast City Airport and Gatwick Airport on the VisitBritain stand for some classic British drinks and nibbles.
Xinjiang - With a selection of special snacks on offer from the Xinjiang Uyghur autonomous region, this is a great opportunity to open your tastes buds to a new culture and cuisine.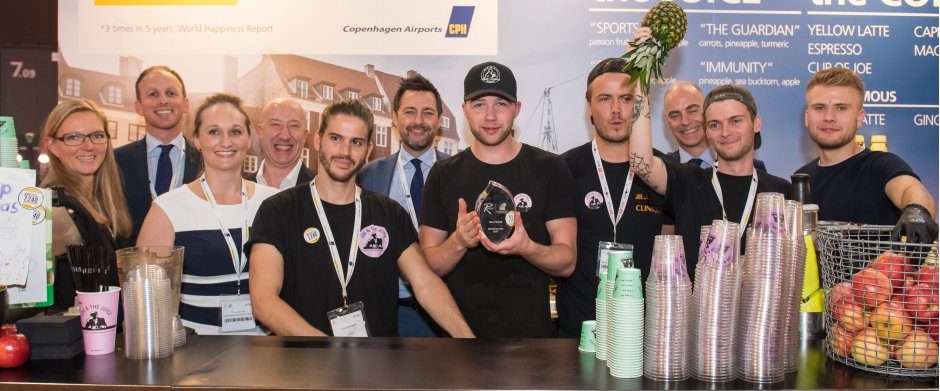 Looking for entertainment and souvenirs? Look no further.
Airports of Thailand Public Company Limited - Airports of Thailand will be hosting a range of activities at their stand during this year's event. Join them for the dance of the four regions, a quiz game, Muay Thai (Thai Boxing) and the Wuchanee Dance (Traditional Thai Dance).
Amsterdam Airport Schiphol - Just like last year, a stroopwafel baker will be working at the Amsterdam Airport stand, handing out fresh stroopwafel to all passing delegates. New for this year, enjoy the chance to learn the skills of a stroopwafel baker. Workshops will run twice a day for 8 – 10 people, with a bake-off on the last day. The winner will receive the grand prize: eternal glory in the stroopwafel bakery world and a handmade award.
ASM - Visit the ASM stand and enter their competition for a chance to win a GoPro camera.
Birmingham Airport - As the nearest airport to Shakespeare's birthplace in Stratford-upon-Avon, the Birmingham Airport stand will host daily performances from Shakespearean actors. Additionally, enjoy a Virtual Reality flyover tour showcasing the airport's future plans.
Copenhagen Airport - Don't forget to visit Copenhagen's stand at the event. They will have a Lego prize draw taking place Tuesday 12pm.
Dallas Fort Worth International Airport - Collect your annual t-shirt directly from the DFW stand and take a free souvenir photo with the Dallas Cowboys Cheerleaders and other Dallas Fort Worth themes.
Egyptian Airports Company - With a number of unique giveaways at this year's event the Egyptian Airports stand is a must visit during World Routes.
FlightGlobal - Visit the FlightGlobal stand and collect their giveaways, including branded coasters.
Hannover Airport - Head into the wild at the Hannover Airport stand; improve your hunting skills and shoot a virtual deer. Don't forget to leave your business card and be in with a chance of winning a pair of premium Sennheiser headphones.
Las Vegas Convention and Visitors Authority - Capture a moment of the Las Vegas skyline on the stands GIF machine and share it with friends and industry colleagues via social media using #NonstopVegas for a chance to win a pair of BOSE Headphones. Experience Vegas Interactive, using touch screen booth technology and don't forget to take some Vegas goodies whilst you're there!
OAG - Take part in the free OAG prize draw at their stand and be in with a chance of winning a BOSE Soundlink Revolve speaker. Winners will be announced on the 17 and 18 of September.
Oman Airports - Visit the Oman Airports stand and experience a variety of activities and treats, including corporate gifts, a photography corner, raffle box and Frankincense candies.
Prague Airport - Enjoy the magic of footbag and yoyo freestyling at the Prague Airport stand. With performances by the multiple World and European Champions in their respective fields, guiding you through their performances and taking your mind to the next level.
Routes - Will you be joining us Down Under for our 25th birthday? Stop by the Routes stand, take a photo with our kangaroo wall and post it to your LinkedIn to be in with a chance of winning a pair of BOSE headphones.
Vienna Airport - Stop by the Vienna Airport stands photo booth for a chance to win a weekend in Vienna for two – provided by the Vienna Tourist Board. The prize includes the Vienna City Card and tickets for a classical concert.
Sheremetyevo International Airport - With souvenirs and promo activities, including interactive photos of Moscow sights, there is plenty to do on the Sheremetyevo Airport stand.
Shuangliu Airport - Listen to the Sichuan opera in this year's Networking Village at the Shuangliu Airport stand, creating a very unique experience for you and your colleagues.
South Australian Tourism Commission - Future hosts of World Routes 2019, Adelaide, will have structured tastings of some special South Australian wines hosted by Nick Stock - one of Australia's most respected and prolific wine critics.
Additionally, the team will have a larger than life kangaroo, Roopert, whom you may have met at previous Routes events. Roopert is travelling to World Routes 2018 with some large items that he is unable to bring back to Adelaide with him. "Roopert's Excess Baggage" will be given away at the official Farewell Reception and includes a customised surfboard, bicycle and a large bottle of South Australian wine. Make sure you keep your eye out for him!
Yangon Aerodrome Company Limited – Visit the Yangon Aerodrome stand to see a traditional Myanmar marionette show, as well as the Chin-lone dance.
Xinjiang - Collect a complimentary souvenir and gift from the Xinjiang stand and hear about the region's tourism opportunities from senior leaders from the route development industry.
With so many exciting activities and attractions, opportunities to network with your peers will be endless at World Routes 2018. Make the most of your time and enjoy all our exhibitors have to offer at the 24th World Route Development Forum. Don't forget to vote for your favourite stand for the Best Stand award via the Routes Event app.

Voting opens on Sunday 15 September. Make sure you visit as many stands as possible before choosing your favourite, as you will only be able to vote once!

If you are an exhibitor and would like to enter further details about your stand, please compete our online form.