Spotlight on Australia's international connectivity
With World Routes 2019 set to take place in the Adelaide, Routesonline shines a spotlight on Australia's growing international market.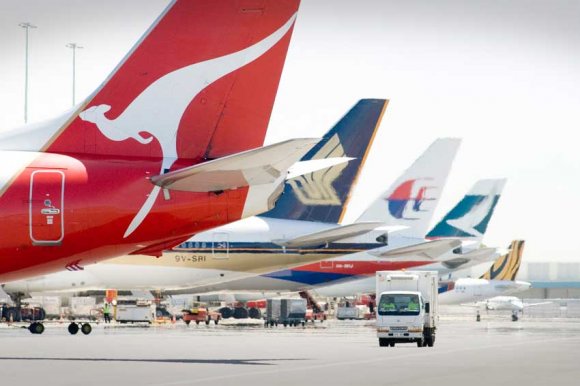 International capacity to/from Australia has surged over the past five years, hitting 52 million seats in 2017. The rise is being fuelled by growing capacity from New Zealand, China, United Arab Emirates, Qatar and Indonesia as new operators enter the market and existing airlines broaden their networks and increase frequencies.
In 2018, the list of overseas destinations has expanded further with the launch of a number of new city pairs such as Sydney-Haikou and Brisbane-Kuala Lumpur. In addition, Qantas became the first airline to operate a regular passenger service that directly links the UK and Australia. At 14,498 km, the 17-hour flight between Perth and London Heathrow is now the second longest flight in the world.
Statistics provided by OAG: The largest supplier of air travel data to the world's airlines, airports, government agencies and travel-related service companies, OAG's online database contains more than 20 years of schedules information. To learn more about OAG, visit oag.com
Strengthening its position
Australia enjoyed a 5.7 percent increase in available international seats in 2017 driven by the launch of new routes and airlines entering the market.
There were 722,006 scheduled flights leaving Australian airports for destinations in Australia or overseas, according to OAG Schedules Analyser, with international flights accounting for 13.6 percent of the figure. In total, that equates to 2.2 million international departure seats per month.
In terms of overall capacity, Australia's international market accounted for 59.8 percent of the 131.7 million available seats in the country's market in 2017. And its growth in recent years is enviable – international capacity rose to 52.96 million seats last year, a sharp rise from the 32.7 million only a decade earlier.
Capacity to/from Australia since 2008:
In 2017, Australia's top 15 markets by capacity accounted for 93.4 percent of the total international seats available. New Zealand remains as its largest market with 10.2 million seats, up by more than 2 million compared with a decade earlier. However, while Singapore has largely flat lined in second, markets in the Middle East and China have experienced particularly strong growth. Here are the biggest markets and their level of growth over the past five years.
Australia's top ten international markets by capacity (2012-2017):
The key markets
Qatar has been the star performer in recent years, becoming Australia's fastest-growing international aviation market. Here we profile the rise of Qatar, plus two other destinations – United Arab Emirates and China – that are among the other key growth markets.
Qatar
Five years ago, scheduled airline capacity between Australia and Qatar was less than 300,000 seats. Fast-forward five years and the total is more than 1 million, with overall capacity up by 296 percent. Growth over the past 12 months alone has been 25 percent.
The increase has been driven by Oneworld member Qatar Airways adding Sydney Kingsford Smith and Adelaide International to its network map over the past two years, in addition to increasing capacity from Melbourne and Perth. This followed the renegotiation of the bilateral Air Service Agreement between Australia and Qatar in September 2015 which increased the number of flights allowed between the two countries each week.
United Arab Emirates
The total number of available seats between Australia and United Arab Emirates more than doubled between 2012 and 2017 to reach more than 5 million for the first time last year. The rise puts UAE as the second-fastest growing market in percentage terms over the period, although more seats were added on Australia-UAE routes than any other international market.
Etihad and Emirates have been the carriers driving the growth, accounting for 85 percent of the number of Australia to UAE departure seats in 2017. Qantas was third with almost 350,000 seats, however, in late 2017 the carrier decided to reroute its Sydney to London services via Singapore rather than Dubai.
China
Like the UAE, capacity between Australia and China has doubled over the past five years. In 2012 there were 2 million seats available, compared with 4.1 million in 2017. Over the same time period the number of airport pairs has tripled, from 11 in 2012 to 35 last year. Xiamen, Nanjing and Fuzhou are just some of the Chinese cities not previously served nonstop from Australia. Six new routes were added in 2017 alone.
The rise in the number of routes follows a deal in 2016 to remove airline growth restrictions, ending passenger capacity restrictions and liberalising codeshare regulations and traffic rights. However, Chinese airlines still operate more than 90 percent of capacity on Australia-China routes, with China Southern Airlines, China Eastern Airlines and Air China having a capacity share of 37.3 percent, 22.4 percent and 14.9 percent respectively.
Top five Australia-China two-way routes by capacity (2017):
Sydney Kingsford Smith - Shanghai Pudong (562877 seats)
Sydney Kingsford Smith - Guangzhou (537676 seats)
Melbourne Airport - Guangzhou (486002 seats)
Melbourne Airport - Shanghai Pudong (370497 seats)
Sydney Kingsford Smith - Beijing Capital (366398 seats)
The airports driving the market
Sydney Kingsford Smith and Melbourne Airport have each added more than 2 million international departure seats over the past five years, but Brisbane, Adelaide International and Melbourne have also enjoyed growth in recent years. Adelaide, the host destination for World Routes 2019, recorded the highest percentage international departure capacity growth between 2012 and 2017.
International departure capacity by airport 2012-17 (% growth):
Fast growth among Chinese carriers
National flag carrier Qantas enjoyed a 9 percent growth in international departures capacity in 2017, compared with the previous year, following frequency rises on existing services and the launch of its new Sydney Kingsford Smith-Beijing Capital route. Emirates had a 9.46 percent share of the market, followed by Qantas' low-cost subsidiary Jetstar.
However, three Chinese airlines are among the fastest-growing carriers on international routes from Australia. Hainan Airlines recorded a 277 percent rise in departures capacity in 2017, compared with 2016, after adding Brisbane-Shenzhen to its network and increasing the frequency of services from Melbourne and Sydney to Changsha and Xi'an Xianyang.