How to make your destination unique amid global competition
Storytelling and partnership working are increasingly important for destinations, delegates at World Routes 2018 have heard.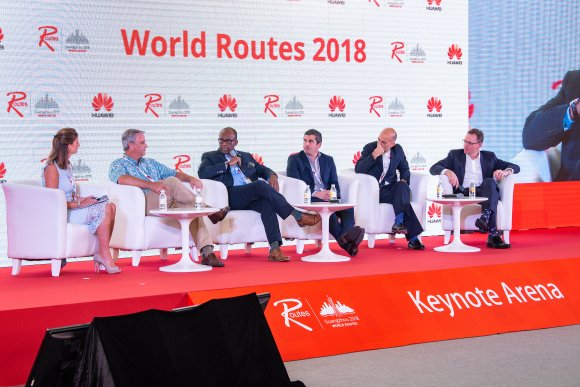 Latest figures from The World Travel and Tourism Council show that the travel and tourism sector was responsible for 10.4 percent of the world's GDP in 2017, as well as 9.9 percent of global employment.
The organisation's T&T Power and Performance Report, published earlier this month, found that China, the US and India have taken the top three spots in its Power Ranking, which combines growth over the past seven years in tourism's contribution to GDP, international visitor spend, domestic tourism spend and capital investment.
It also looked at the countries whose travel and tourism has grown most quickly in percentage terms over the past seven years. Countries featured in the list included Myanmar, Iraq and Georgia.
So as the travel and tourism industry continues to grow, it has become more important for destinations to stand out, enabling them to attract airlines and offer visitors something unique.
Speaking at World Routes 2018 in Guangzhou today, an expert panel discussed the challenges facing tourism authorities, as well as sharing best practice. Featuring on the panel was Brent Overbeek from Hawaiian Airlines; Daniel Ketchibachian from Ezeiza International Airport, Corporación América; Donovan White from the Jamaica Tourist Board; John O'Sullivan from Tourism Australia; and Luca Martinazzoli from the Municipality of Milan.
"Storytelling is very important," said Ketchibachian. "As an airport, we are the first part of the story and the last part.
"Corporación América has 52 airports and so we have to make ourselves part of the story in every city in which we operate. It's essential to promote what is happening in that city, be it football, food or drink. We need to have the local flavours and every place we operate is different.
"That means tourism bodies and airports have to work together so they can tell the same story."
Tourism Australia's managing director John O'Sullivan agreed that it is essential tourism destinations work with airports and airlines to promote the location and leverage new routes.
"A great example of our partnership approach is China Southern," he said. "The airline now flies to six cities in Australia and that has all been built on partnership working. It's a critical three-way partnership to open any destination."
According to figures from OAG Schedules Analyser, China Southern has grown its two-way Australia capacity from about 981,000 available seats to more than 1.57 million in 2018. It added Adelaide in 2016 and Cairns last year to its existing destinations of Brisbane, Melbourne, Perth and Sydney.
Luca Martinazzoli, head of metropolitan marketing at the Municipality of Milan, said it tries to partner more and more with airlines.
He added: "Opening a new route can take up to five years but losing it can take one week. We have to work closely with the airlines so they have all the information they need about the destination."
The panel agree that standing out from the crowd was becoming tougher, but offering visitors a unique experience can help to sell the location.