Airports 'must be alive to cargo's indirect revenues'
Many airports are not alive to the opportunities that exist from cargo because the benefits are not always immediately obvious, delegates at World Routes have been told.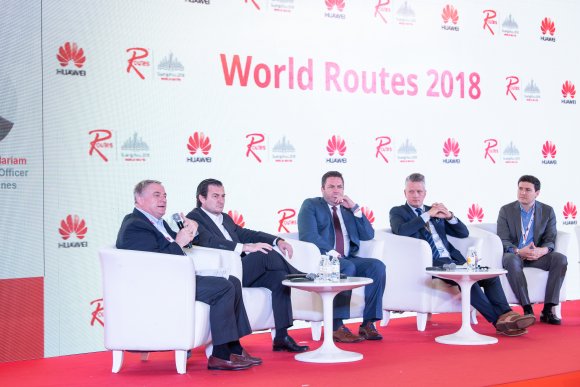 The value of goods carried by air is expected to exceed $6.2trn in 2018, according to the latest estimates from IATA, representing 7.4 percent of world GDP.
However, delegates at World Routes 2018 in Guangzhou have been told that many airports are not alive to the opportunities that exist because the benefits are not always immediately obvious.
"The biggest profit from cargo comes from indirect revenues," said Steven Polmans, head of cargo and logistics at Brussels Airport and vice-chairman of industry association TIACA.
"But it seems that most financial people at airports find it easier to calculate a direct profit from passenger activities because things like shopping are easier to track.
"The indirect value is very complex and so can be difficult to understand. However, those that do understand it can see the economic gains, from employment, adding value and creating new businesses.
"If you build a new distribution centre, for example, it creates economic development. Cargo is an enabler for economic growth."
Earlier this year, Brussels Airport revealed plans to invest €100m in new logistics facilities to help meet future demand.
The investments include a building of about 50,000 sq m, with direct apron access for handling, shipping and storage, including for temperature-sensitive products.
Investment will also be made into redeveloping and modernising existing handling facilities.
Polmans was speaking on the 'Why cargo is essential to your airport' panel session at World Routes, which also featured Daniel Ketchibachian from Ezeiza International Airport; Eduardo Arenas from LATAM Airlines; Mariano Mobilia from Aeropuertos Argentina 2000; and Martin Langaas from Avinor.
Langaas agreed that airport investment in cargo can be a virtuous circle.
"We have about 30 million passengers and they are the drivers for our revenues," he said.
"Salmon [one of Norway's largest exports] is about customers so doesn't generate a lot for us. However, fisheries for Norway are very important and so as an industry it is important that the airport is facilitating this growth.
"We are on a journey. We are seeing a lot of potential from new airlines coming in, creating new employment opportunities. Slowly but surely, cargo is generating value."